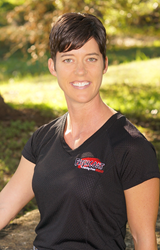 It's a domino effect of business growth and, because we have such a strong team, I've been able to step back from the day-to-day operations to focus on growing the business through community building and lead generation. That has made all the difference. - Sarah Ross
LAKEWAY, Texas (PRWEB) March 13, 2018
When Sarah Ross launched Fresh Coat of Lakeway and Marble Falls back in 2013, she was excited to raise the bar in the painting industry by combining high-quality painting services and top-notch customer experiences. Now, less than five years later, Ross has been named the Fresh Coat Painters Franchisee of the Year.
The Fresh Coat Painters Franchisee of the Year Award recognizes one franchise owner for excellence in business development, customer service and community building as well as a commitment to the Fresh Coat franchise system. The award was presented at the company's national conference on February 9, 2018.
"Sarah's franchise was a top performing franchise in the system in 2017, but this recognition is about more than numbers. Sarah is rapidly growing the business by executing the Fresh Coat system, building her team with the right people and focusing on business development. At Fresh Coat, we also appreciate that Sarah is such a team player. She's always willing to talk to prospective, new and existing franchisees, she gives back to her community and she is dedicated to the future of her company and the future of the Fresh Coat brand," Fresh Coat President Tara Riley.
Fresh Coat offers residential and commercial painting services including interior or exterior painting, wood staining, and other services for nearly every protective coating application. They have a 24/7 receptionist, online scheduling, free detailed quotes, and they only use high-quality materials. Fresh Coat of Lakeway and Marble Falls, which is one more than 120 Fresh Coat franchises, serves Lakeway, Marble Falls, Dripping Springs, West Lake Hills, Spicewood, Bee Cave and the surrounding areas.
"The recognition is exciting and my team and I are extremely honored. There were several franchisees who had amazing numbers and great community impact last year, so to be singled out among that group is especially awesome," Ross said. "There's a healthy level of competition among the Fresh Coat family and I love that we can all grow together by working together."
Ross said the growth in 2017 was possible because of the commitment of her team as well as some changes she made to the structure of the business in late 2016 and early 2017. First Ross hired an estimator and then she and the new estimator split the territory in half to be able to reach more clients more quickly. Bringing in more work then meant growing the team and promoting one of their lead painters to overall project manager, which meant Ross herself spent less time checking in on the teams and doing final walkthroughs with homeowners and more time marketing the business.
"It's a domino effect of business growth and, because we have such a strong team, I've been able to step back from the day-to-day operations to focus on growing the business through community building and lead generation. That has made all the difference," Ross said. "I also think that branding has started to come into play for us too. People have heard about Fresh Coat and they've seen our vehicles on the road – either mine or another franchisee's – and people they know are starting to talk about the high-quality, professional work we do, which is turning into word-of-mouth referrals. It's coming full circle."
In 2018, Ross is looking forward to continuing to the grow the business and adding new team members to serve more of the growing community.
Fresh Coat was founded in 2004 as part of Strategic Franchising Systems. Since 2015, Fresh Coat has been included in the Bond's Top 100 and named to Entrepreneur Magazine's Franchise 500 list. Fresh Coat is also part of the International Franchise Association, the Small Business Association's Franchise Registry, VetFran and Minority Fran. All Fresh Coat employees are specially trained, dependable and background-checked and Fresh Coat of Lakeway and Marble Falls is bonded and insured.
For more information about Fresh Coat of Lakeway and Marble Falls, call (512)309-0733, email Ross(at)FreshCoatPainters.com or visit http://www.FreshCoatLakeway.com.