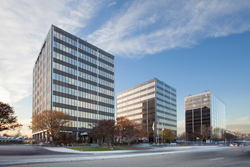 "utiliVisor was a natural choice for us. Their knowledge of building systems and efficient operations is unparalleled."
HACKENSACK, N.J. (PRWEB) April 12, 2018
Continental Plaza is a 650,000 square office complex located along Route 4, with access to all major highways, midtown Manhattan, airports and shopping centers. The complex is comprised of three, 10- to 12-story office towers, a single-story TGI Friday's restaurant, and a multi-level interconnected parking deck. JD Companies and Capstone are making $10 Million in improvements that include new heating and cooling systems, efficient lighting and a fitness center overhaul. According to Jimmy D'Agostino, CFOO of JD Companies, "utiliVisor was a natural choice for us. Their knowledge of building systems and efficient operations is unparalleled."
The utiliVisor solution for Continental Plaza involves third party independent measurement and verification services for the central chilled water plant and the Building Management System upgrade in all three towers. The goal is to determine the most efficient operating sequence and provide ongoing performance recommendations and technical support to building operations staff. "utiliVisor's monitoring and reporting is exceptionally precise," added Shaun Townsend, Building Systems Engineer at JD Companies. "They often catch deviations in operating data that the building may never feel, thereby maintaining efficiency and preventing potential equipment damage."
"Our monitoring program will provide an understanding of the holistic energy efficiency of the existing system and its individual components," stated Peter Angerame, Vice President at utiliVisor. "This will enable us to optimize production of chilled water in conjunction with the facility's cost structure on a "real time" basis, resulting in significant cost savings."
To achieve this, utiliVisor will connect its monitoring and verification system to the building management system (BMS), Data will be collected from the BMS and transmitted every five minutes via the web to the utiliVisor Operations Center where the company's energy engineers will analyze the data and provide recommendations for facility optimization.
In addition to the chiller plant monitoring, JD Companies is implementing a variety of energy conservation measures at Continental Plaza. These include:

Complete DDC upgrade to all three buildings and equipment which will allow for advanced control strategies.
Installation of VFDs on large AHU and chilled water pump motors to generate energy savings and improve performance of system
"Continental Plaza energy efficiency measures will benefit from a recently implemented statewide energy conservation program," Mr. Angerame noted. "It is anticipated that the complex will receive $1.1M+ in energy incentives through the New Jersey Clean Energy Program Pay for Performance – Existing Buildings incentive program over the next year."
About utiliVisor
Founded in 1978, utiliVisor offers comprehensive energy monitoring and submetering services, providing accurate, reliable solutions to boost efficiency and lower energy consumption. The utiliVisor system is a web-based, networked solution, built on open standards, that works in real time to collect and format data, monitor operations and equipment errors, and deliver oversight via web-based alerts and alarms. UtiliVisor services more than 250 million square feet of commercial and institutional space nationwide and oversees more than 400,000 service data points, more than any other service provider in the United States. It is also the largest submetering company in the tri-state New York metropolitan area and an approved Meter Data Service Provider (MDSP) for the State of New York. (http://www.utilivisor.com).
About JD Companies
The JD organization is a consortium of real estate companies with extensive experience in all arenas of commercial and residential real estate: construction, development, management, sales, and leasing. Over three generations, JD has developed more than 4 million SF of commercial space and 5,000 residential units throughout New Jersey and New York. JD currently has holdings in New Jersey, Pennsylvania, Texas, and North Carolina. (http://www.jd-companies.com)
About Capstone Realty Group
Capstone is an Institutional Private Equity Investor that acquires Grocery-anchored Retail Shopping Centers, Office Buildings, Hotels and Non-performing Loans. Since 1998, Capstone has acquired over 25 real estate deals; comprising over 5.0 million SF and $685 million of total capitalization. Capstone primarily invests in the New York Metropolitan area and Upstate New York and has investments in Ohio and Pennsylvania. (http://www.crgre.com)