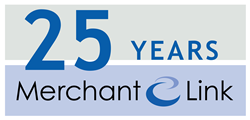 Silver Spring, MD (PRWEB) March 14, 2018
March 11, 2018 marks the 25th anniversary for Merchant Link, a leading provider of payment gateway and data security solutions, removing the risk and hassle of payments. Merchant Link has grown from a small Technical Support Center in Bethesda, Maryland, to an international provider of payment security solutions. The landscape is much different today than it was in 1993 when Merchant Link got its start.
Today, Merchant Link serves over 500,000 customers that process over 6 billion transactions annually. Identifying new ways to securely manage transactions is core to Merchant Link's business. Operating in a 24x7x365 manner, Merchant Link provides semi-integrated data and payment card security solutions, allowing merchants to focus on their businesses.
Dan Lane, CEO shared, "I've been with Merchant Link since its inception. I've seen the industry change dramatically in the last 25 years. First to market with tokenization and P2PE, Merchant Link strives to bring merchants solid solutions for payment card security. We've grown exponentially, from a handful of people in a single small office to over 250 employees in 4 locations across North America. While we've grown to meet the needs of the industry, we continue to live by our values."
"We truly appreciate all of our merchants and partners in the restaurant, retail and lodging industries that have been with us along the way. We have learned from you and have appreciated your collaboration and challenging us to strive to provide more by way of solutions and service," Lane continued.
Financial technology continues to change every day — and Merchant Link continues to lead the way toward the payments of tomorrow.
Today, Merchant Link provides a full suite of payment card security solutions, including omni-channel tokenization, point-to-point encryption, and EMV. Wrapped around its product and solution set is Merchant Link's "One Call Solves All" service commitment.
For more, visit Merchant Link at http://www.merchantlink.com
About Merchant Link
Merchant Link is a leading provider of cloud-based payment gateway and data security solutions, removing the risk and hassle of payments for more than 500,000 restaurant, hotel, and retail locations. Founded in 1993 and headquartered in Silver Spring, Maryland, Merchant Link currently enables more than 6 billion transactions annually for some of the world's best-known merchants, providing connectivity to the major U.S. payment card processors. TransactionVault®, our tokenization solution, TransactionShield®, our point-to-point encryption solution, and TransactionLink™, our EMV solution, mitigate the risk of a data compromise while lowering the cost and effort of PCI compliance. For more information, please visit http://www.merchantlink.com.
EMV is a registered trademark or trademark of EMVCo LLC in the United States and other countries.