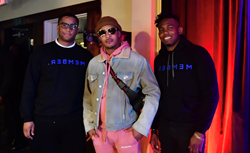 Expansion has always been a part of the vision and I could not be more excited to grow our community in such a vibrant city.
WASHINGTON, D.C. (PRWEB) March 14, 2018
Last night during tech week at South by South West (SXSW), The Gathering Spot (TGS), Atlanta's premier private membership club, announced D.C. as their second location for their respected community-driven collaborative space. Held at the ChooseATL house at Maggie Mae's, Ryan Wilson (co-founder of The Gathering Spot) along with iconic rapper and actor Tip "T.I." Harris sat down with ChooseATL's Ashley Cleveland for a conversation about the club's expansion. Ryan explained how he saw a need for a common space for creators, disruptors, entrepreneurs, and executives to gather together to share ideas, experiences and drive innovative growth and development.
That need birthed The Gathering Spot, an invitation-only private club that fosters community and curated a new narrative for the thriving city of Atlanta. Legendary rapper and community leader T.I., who is also a loyal member to the club, expressed why he wanted to help expand the club nationally to replicate the profound culture and influence that they have been able to capture in his native city. Wilson went on to stress the importance of protecting the creative mind and providing an environment where some of the most groundbreaking ideas can come into fruition.
"Expansion has always been a part of the vision and I could not be more excited to grow our community in such a vibrant city. After looking across the country for our next location, Washington DC was a natural choice for us. It is the city where my Co-Founder, TK Petersen, and I met while attending Georgetown and a place that we consider a second home. The people of DC have the same passion for community and collaborative spaces that we found in Atlanta and we cannot wait to become a part of what makes the city special. We've already started building our DC community with diverse individuals from many different backgrounds and fields. We are looking forward to continuing our efforts to grow the community and open the club's third facility in the near future," Wilson states.
Immediately following the panel discussion, T.I. along with rising star, Tokyo Jetz, and legendary Texas rapper, Trae Tha Truth, took to the performance stage for a full on concert, with Grammy-Award winning DJ and music executive Kawan "KP The Great" Prather, spinning classic hits keeping guests on their feet all night.
Notables in attendance: Common (artist/actor), Jason Mitchell (Actor), Jacob Latimore (Actor) and Inspectah Deck (Wu-Tang Clan).
To request an invitation to become a founding member please click here and The Gathering Spot team will initiate the founding member consideration process.
Photo Credit: GiftedTalents, Marquis Garden Media & Juan de Dios Figueroa
Media interested in speaking with The Gathering Spot co-founders, contact Theory Communications:
Andrea Hamilton | Andrea@TheoryComm.com | 404.447.9894
-Or-
Erica Hamilton | Erica@TheoryComm.com | 404.759.9678