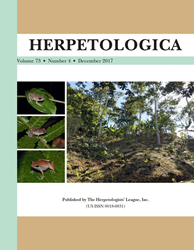 "Our research found that by using a technique that looks for the snake's DNA rather than the snake itself, we can find them more easily... This technique has immediate conservation applications and amazing future potential as the technology advances."
LAWRENCE, Kan. (PRWEB) March 16, 2018
Herpetologica – Understanding trends in biodiversity has become increasingly complex because of changes in both climate and habitat, as well as the introduction of nonnative species. Shifts in these parameters have generated the need for improved biomonitoring techniques for the detection of particular species and their use of habitat. The development of environmental DNA (eDNA) has helped researchers detect the presence of target species and track their movements more easily than merely searching for the animal itself. While eDNA is typically used in aquatic environments, researchers from Florida Gulf Coast University have successfully detected snake activity from soil samples for the first time.
In an article recently published in the journal Herpetologica, researchers designed laboratory and field trials in which they tested soil samples of habitats occupied by Red Cornsnakes and Burmese Pythons to detect both the accumulation and degradation rates of eDNA.
In the laboratory experiments, Red Cornsnakes were placed in artificial environments for seven days to measure the accumulation rate of eDNA in the substrate over different time intervals. After the snakes were removed, the environments were maintained in the same conditions for an additional seven days, and soil samples were collected every 24 hours to measure the rate of eDNA degradation. In these trials, the researchers found that eDNA was present in the initial sample and increased continuously throughout the residence period. After the snake was removed, the researchers also noted that the amount of eDNA slightly declined until day four, after which they saw a noticeable decline, with no eDNA present at the end of a week's time.
In the field tests, Burmese Pythons were the target species. The researchers collected soil samples at five sites known for python activity and 40 sites without recent or previous python observations. The researchers used telemetry monitoring for the five sites of active python activity and a camera probe-and-monitor system at the other sites. Three of the five field-tested sites had pythons present within the time-detection window established during the lab trials, and two of these sites tested positive for python eDNA. In contrast, there was no eDNA from pythons detected at the other 40 sites.
This study confirms that snake eDNA can be detected in soil samples within a limited window of time. Based on their results, the researchers believe that eDNA can be used to track other species and help conservationists and land managers identify a greater number of species and their movements. As one researcher stated, "Snake species tend to be difficult to locate and in turn difficult to protect in our changing world. Our research found that by using a technique that looks for the snake's DNA rather than the snake itself, we can find them more easily. It can also be used for other wildlife groups as well, such as lizards and mammals. This technique has immediate conservation applications and amazing future potential as the technology advances."
Full text of the article, "Terrestrial Snake Environmental DNA Accumulation and Degradation Dynamics and its Environmental Application," Herpetologica, Vol. 74, No. 1, 2018, is now available at http://www.hljournals.org/doi/full/10.1655/Herpetologica-D-16-00088
About Herpetologica
Herpetologica is a quarterly journal of The Herpetologists' League, containing original research articles on the biology of amphibians and reptiles. The journal serves herpetologists, biologists, ecologists, conservationists, researchers, and others interested in furthering knowledge of the biology of amphibians and reptiles. To learn more about the society, please visit http://www.herpetologistsleague.org