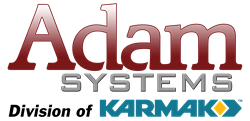 "We are excited to unveil this new solution," says John Cowan, Director of Product Management for the automotive division of Karmak. "We are confident that our customers will see immediate benefit through the reduction of time it takes to get a customer into their service bay and by the increased e
(PRWEB) March 14, 2018
Karmak's ADAM Systems division, provider of dealer management solutions in the automotive industry, is pleased to unveil a new Mobile Service Solution for ADAM DMS clients.
This new service write-up tool built exclusively for the ADAM DMS gives users the ability to perform real-time electronic inspections and walk-arounds. A mobile solution allows dealerships to perform write-ups in the service drive, saving their clients time and helping to increase overall satisfaction.
The Mobile Service Solution within Karmak's ADAM DMS can help to maximize the effectiveness of Service Advisors by reducing the amount of administrative work, allowing more time for upselling. This tool also helps to reduce liability for damage not caused by the dealer with the ability to take photos and store them within ADAM DMS, providing proof of pre-existing damage.
"We are excited to unveil this new solution," says John Cowan, Director of Product Management for the automotive division of Karmak. "We are confident that our customers will see immediate benefit through the reduction of time it takes to get a customer into their service bay and by the increased effectiveness of the service department as a whole."
Karmak representatives will be giving live demonstrations of how the Mobile Service Solution tool will work within ADAM DMS at the upcoming NADA show in booth #4284C.
About ADAM Systems
ADAM Systems was originally founded in 1979, and specializes in dealer management solutions for automotive dealerships across North America and Puerto Rico. Acquired by Karmak, Inc. in 2016, the ADAM DMS enables dealerships to manage their operations from one user-friendly portal with no long-term contracts and no proprietary equipment. Windows-based and integrated with 18 major automotive OEMs, ADAM DMS manages the details that keep dealerships running smoothly. To learn more, visit http://www.adamdms.com or stop by booth #4284C at the upcoming NADA show.