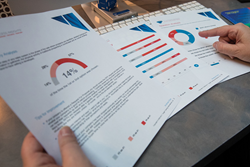 SCOTTSDALE, Ariz. (PRWEB) March 19, 2018
TTI Success Insights, the world's go-to source for research-based validated assessments and talent management solutions, is pleased to announce the release of Target Selling Insights, a new sales report that assesses, coaches and develops sales teams by identifying their current sales knowledge and potential areas of improvement. This report enables sales managers to assess a subject's understanding of the strategies required to sell successfully.
The new report was created in collaboration with The Brooks Group, an international corporate sales training and sales management training company focused on helping companies build top-performing sales teams.
"Successful sales teams rely not only on the capabilities of the individuals, but on their understanding of an effective sales process," said Rick Bowers, President of TTI Success Insights. "As one of the world's leading sales organizations, The Brooks Group was instrumental in creating an assessment that accurately measures a respondents understanding of the sales process. We are delighted to offer this to our customers and clients."
The Target Selling Insight report employs 49-questions to identify when a respondent chooses the most effective through least effective sales strategy. The report will gives respondents and their employers feedback on the strengths and weaknesses of an individual. From this, sales professionals can develop plans to both leverage strengths and address weaknesses, enabling respondents to sculpt professional sales growth.
About TTI Success Insights
TTI Success Insights reveals human potential by expanding the awareness of self, others, and organizations. We dive deeper than DISC, giving professionals solutions to hire, engage and develop the right people and build strong teams.