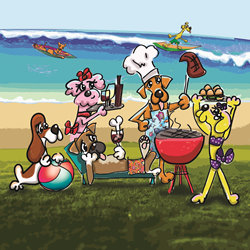 DANA POINT, Calif. (PRWEB) March 15, 2018
Fetch a calendar and bark the dates for Yappy Hour, a monthly cocktail party for canines and their companions at The Ritz-Carlton, Laguna Niguel. Posh pups, haute hounds, and dapper doggies enjoy complimentary house-made dog biscuits and refreshing libations, thanks to bacon, chicken, beef and vegan water, while their companions sip a glass of Mutt Lynch Unleashed Chardonnay, Merlot Over and Play Dead, or Chateau d'Og Cabernet Sauvignon. Cocktails, beer and a selection of barbecue items are also available for purchase.
Release the Hounds for Yappy Hour 2018

Thursday, May 10, 2018 | 5 to 8 p.m.
Thursday, June 14, 2018 | 5 to 8 p.m.
Thursday, July 12, 2018 | 5 to 8 p.m.
Thursday, August 9, 2018 | 5 to 8 p.m.
Thursday, September 13, 2018 | 5 to 8 p.m.
Thursday, October 25, 2018 – Yappy Howl-O-Ween | 4 to 7 p.m.
Sunday, December 2, 2018 – Yappy Howl-iday Celebration | 11 a.m. to 2 p.m.
Supporting the resort's Community Footprints program, proceeds from Yappy Hour benefit The Veterans Initiative™ of Canine Companions for Independence. With a dramatic increase in wounded veterans, The Veterans Initiative provides an opportunity for veterans to regain their independence through the support of Canine Companions assistance dogs. Founded in 1975, Canine Companions is a non-profit organization that enhances the lives of people with disabilities by providing highly-trained assistance dogs and ongoing support to ensure quality partnerships. Headquartered in Santa Rosa, CA, Canine Companions is the largest non-profit provider of assistance dogs, and is recognized worldwide for the excellence of its dogs, and the quality and longevity of the matches it makes between dogs and people. The result is a life full of increased independence and loving companionship.
"Over the years, Yappy Hour has not only been an exciting event that brings the local community and their dogs together, but it has raised significant funds in support of animal charities that change lives," said Bruce Brainerd, general manager of The Ritz-Carlton, Laguna Niguel. "It's truly an honor to host Yappy Hour and the assistance we are able to provide to Canine Companions could not happen without the generosity of our friends, neighbors, and business partners," he added.
Visit http://www.ritzcarlton.com/lagunayappyhour for additional information.
About The Ritz-Carlton, Laguna Niguel
The Ritz-Carlton, Laguna Niguel rises above the Pacific Ocean and affords panoramic views across the horizon and the miles of sandy beach below. The resort's extraordinary bluff top setting creates a backdrop that elevates the guest experience and creates distinctive and unforgettable memories that last a lifetime. Make the oceanfront resort a part of your travel plans and #riseabove. For more information or reservations call 800-241-3333, the hotel directly at 949-240-2000, a travel professional or visit http://www.ritzcarlton.com/lagunaniguel.