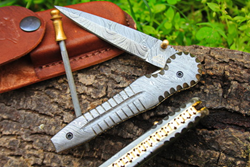 Even if you're not a knife collector, most people appreciate the beautiful craft of a handmade knife. It's truly a piece to admire.
SAN FRANCISCO (PRWEB) March 30, 2018
Whether its Christmas, Anniversaries, Valentines Day, or just about any special occasion; choosing a gift for your boyfriend can be difficult. Gifts for your boyfriend not only have to be memorable, but also be something that your special someone can cherish forever. Custom handmade Damascus steel knives are the perfect gift for boyfriends for any occasion. The simple fact is guys love knives. Even for guys who aren't knife enthusiasts, anyone can appreciate a handmade craft that is custom made and designed to perfection. DKC Knives is your one stop shop for the perfect gift for your boyfriend. DKC Knives are great memorabilia and even better for performance.
DKC Knives is based in Castro Valley California. The company website is http://www.dkcknives.com. DKC Knives can be follow on Facebook as well as Instagram. Interested parties can sign up for the company newsletter at http://www.dkcknives.com and get updates on new knife releases.