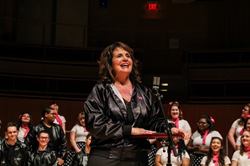 Ms. Cleveland mentors and trains singers around the world, from barbershop groups to gospel choirs. ... NAfME congratulates Ms. Cleveland on this outstanding achievement, and we are proud to call her a NAfME member.
RESTON, VA (PRWEB) March 14, 2018
The Barbershop Harmony Society (BHS) and National Association for Music Education (NAfME) has honored NAfME member Debbie Cleveland of Gaither High School in Tampa, Florida, with the 2018 BHS/NAfME Music Educator of the Year Award, in recognition of her excellence in teaching, performance, and lifelong impact on young singers. The award was presented to Ms. Cleveland in January during the International Youth Barbershop Chorus Festival, held at the Midwinter Convention of the Barbershop Harmony Society in Costa Mesa, California. Ms. Cleveland's Hurricane of Harmony mixed chorus was also honored with the Audience Favorite Award, and a Superior rating during the Conference.
Ms. Cleveland has spent 31 years teaching as a choral director in secondary public schools, with her choirs consistently receiving Superior and Excellent ratings, as well as opportunities to perform at EPCOT's Candlelight Processional, the Saint Patrick's Cathedral Concert Series in New York City, and the Florida Music Education Association State Convention. Her students are also selected to perform at All-County and All-State each year.
"In a school district of 15,500 teachers, Ms. Cleveland has scored in the top 6 percent of 'Highly Effective' teachers each year of the six-year teacher evaluation program," said NAfME's Executive Director and Chief Executive Officer, Michael J. Blakeslee. "Ms. Cleveland mentors and trains singers around the world, from barbershop groups to gospel choirs. She is an active guest faculty member at education workshops in over half of the regions in Sweet Adelines International (SAI), and is also a clinician for youth harmony camps across the country. We congratulate Ms. Cleveland on this outstanding achievement and are proud to call her a NAfME member."
Ms. Cleveland received a Bachelor of Arts from University of South Florida, as well as a Master's in Education from the University of Tampa. She is a Coordinator and Girls' Clinician for the annual Hillsborough County Barbershop Workshop, a sponsor of both the Barbershop Harmony Club and Gospel Choir Club, and a certified SAI Faculty. She has been voted "Teacher of the Year" as a middle school and junior high school choral director, received the MENC/SAI Music Educator of the Year Award in 1997, and featured on the PBS special, Voices in Harmony, with Gas House Gang.
"What really makes her a great candidate for this award is the love she has to selflessly share her joy of music with others," wrote Randolph M. Loos, a 41-year member of BHS who nominated Ms. Cleveland for the award. "Debbie spends her summers traveling to youth a cappella workshops to share the joy of music instead of taking her summers off like most teachers. She does this without compensation, which speaks to her motivation. Never have I met anyone whom I believe is more qualified for this award than Ms. Cleveland."
The Barbershop Harmony Society works to build an awareness of the intrinsic value of singing and provides inclusive opportunities to participate in the joy of harmony. In partnership and collaboration with NAfME, an annual award has been established to honor educators who give students the opportunity to learn and participate in the joy and power that music education brings in uplifting the human spirit and fostering the wellbeing of society.
###
National Association for Music Education, among the world's largest arts education organizations, is the only association that addresses all aspects of music education. NAfME advocates at the local, state, and national levels; provides resources for teachers, parents, and administrators; hosts professional development events; and offers a variety of opportunities for students and teachers. The Association orchestrates success for millions of students nationwide and has supported music educators at all teaching levels for more than a century. With more than 60,000 members, the organization is the national voice of music education in the United States.
Follow NAfME on Twitter (twitter.com/nafme) and on Facebook (facebook.com/nafme).
For additional information, contact Catherina Hurlburt at catherinah(at)nafme(dot)org or 703-860-4000, ext. 216.