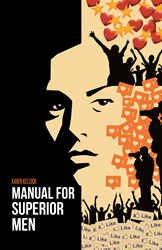 CANE BEDS, Ariz. (PRWEB) March 19, 2018
Based on a Ph.D. and forty years of postdoctoral research in psychiatry and political psychology, this is Human Systems Theory: how people hold each other down by a false theory imposed in schools and media.
Delivered in rapid quips, the false worldview is rapidly debunked until the new theory becomes the new reality. An extremely unique read, prepare for mind shattering concepts bringing magic, even comical relief.
"Manual for Superior Men" can be opened to any page to inspire for years in the study of the human hypocrisy blocking growth, as all paradoxes are resolved and problems dissolved. All life's enigmas are now explained as the reader's journey is quickened and unique genius released.
View a synopsis of "Manual For Superior Men" on YouTube.
Available in all bookstores, for additional inquiries about "Manual for Superior Men" contact Christian Faith Publishing media department at 866-554-0919.