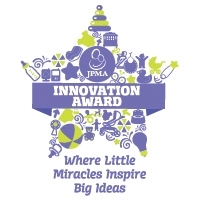 JPMA has been hosting the Innovation Awards for more than 26 years and it is one of the most exciting programs we offer the industry.
MOUNT LAUREL, N.J. (PRWEB) March 19, 2018
From high-tech apps and interactive toys to important safety gear, the most innovative products of 2018 will offer parents ground-breaking new ways to safeguard and care for baby, while making their lives easier.
These products and more are among those announced today by the Juvenile Products Manufacturers Association (JPMA) as finalists for the 2018 Innovation Awards Competition, sponsored by BabyCenter.
"JPMA has been hosting the Innovation Awards for more than 26 years and it is one of the most exciting programs we offer the industry," said JPMA Executive Director Kelly Mariotti. "Companies continue to introduce breakthrough products into the marketplace and we look forward to watching these companies prosper."
"The 2018 Innovation Awards winners prove that regardless of generation or life stage, parents want gear that is high quality, safe, and easy to use. Some of the award nominees also demonstrate that parents are buying into the Internet of Things – far beyond smart speakers and health and fitness trackers," said Kimberly Rutt, regional sales director of BabyCenter. "Whether a connected device or not, one thing is for sure – to win with parents, brands must first and foremost anticipate their needs, find ways to make their lives easier, and help them feel like they are doing what's best for baby."
The 2018 Innovation Awards finalists are:

4moms - 4moms breeze plus
Baby K'tan, LLC - Baby K'tan Weekender Diaper Bag
Baby Trend - Baby Trend® Mobile App with Connected Gear™ as featured on Secure Snap Fit® 35 Infant Car Seat
Babycomfit LLC - Under all baby pants
BooginHead - PaciPal Teether Blanket
Buggygear - Buggygear 3-Speed USB Rechargeable Turbo Fan
Cache Coeur - Curve washable nursing pad
Childhome BVBA - Evolu One.80°
Colgate Mattress Atlanta Corp. - The zenBaby™ Hybrid 2-in-1 with KulKote
Colorland Mother & Baby Care Limited - Colorland Transformer Baby Hip Seat & Carrier
Combi USA, Inc - Join. Baby Carrier
CYBEX - Sirona M with SensorSafe 2.0
Diono - Carus Complete
Diono - Traverze
DockATot - Aristot
Doddle & Co - the chew™
Ennovate Products LLC - The Evolutionary Humble Bee "Nurse-Sling"
Ergobaby - Ergobaby Omni 360 Carrier
Evenflo Company, Inc. - Evenflo® EveryStage™ DLX All-in-One Car Seat
Evenflo Company, Inc. - ExerSaucer® Gleeful Sea 2-in-1 Activity Center + Art Table
Evenflo Company, Inc. - Evenflo® Pivot Xpand™ Modular Travel System with SafeMax™ Infant Car Seat
ezpz - The Sip
Fisher-Price - Fisher-Price® 4-in-1 Ocean Activity Center
Ginsey Home Solutions - Playtex Potty Genie 3-in-1 Potty Trainer with Liner System
Glow Organics - Glow Organics Bath Bomb Set
Green Toys - Green Toys Dough Set
HALO Innovations - HALO Bassinest twin sleeper
Happiest Baby - Sleepea by Happiest Baby
iBaby Labs - iBaby Care M7
Itzy Ritzy - Milk Boss Infant Feeding Support Pillow
JOLiMOLi - Sagepole High Chair
KidCo, Inc - Retractable Safeway Gate
Kolcraft Enterprises - Contours Curve
Korede - Milola Clutch
Luv Bug Company - UPF 50+ Car Seat Cover
Malarkey Kids (formerly Munch Mitt) - Chew Cube Easy-Grip Teether Rattle
Malarkey Kids (formerly Munch Mitt) - Buddy Bib Animal Collection
Medela LLC - Quick Clean™ Breast Pump & Accessory Sanitizer
MOBY - MOBYFit
Nanit - Nanit Smart Baby Monitor
NISSI & JIREH, Inc - 4 in 1 Universal Pacifier Holder Plush Toys
Oralign Baby LLC - MyPaci Classic Plus pacifier
OXO International Ltd. - OXO Tot Space-Saving Drying Rack
OXO International Ltd. - OXO Tot Stick & Stay Suction Bowl
OXO International Ltd. - OXO Tot Silicone Self-Feeder
OXO International, Ltd. - Air Stroller
Petunia Pickle Bottom - Inter-Mix Backpack + Inter-Mix System Deluxe Kit
PRIMO - 2-In-1 Voyager Smart Infant Swing and High Chair
Prince Lionheart, Inc - Tubimals™
Project Nursery - Project Nursery Smart Baby Monitor System
Skip Hop - Nursery Style Light Up Diaper Caddy
Skip Hop - Explore & More Follow-Bee Crawl Toy
Skip Hop - Skip Hop Explore & More Jumpscape Foldaway Jumper
Sleep n Feed - Sleep 'N Feed
Summer Infant - My Bath Seat
Summer Infant - Baby Pixel™ 5.0 Inch Touchscreen Color Video Monitor
The Boppy Company - Boppy™ Teething Scarf
The Boppy Company - Boppy™ ComfyFit™ Baby Carrier
Think King - SitAlong Toddler Luggage Seat
Travel Tray - Travel Tray
Veer Gear, LLC - Veer Cruiser
Whisbear - Whisbear The Humming Bear
WOW GEAR - WOW CUP MINI 360 Bottle
JPMA graciously acknowledges the selection committee of media representatives, safety experts, and retail buyers who volunteered their time and effort to serve on the judging panel:
Jessica Hartshorne, Parents Magazine
Amy Morrison, Pregnant Chicken
Jill Koziol, Mother.ly
Torine Creppy, Safe Kids Worldwide
Sondos Elnakib, Toys R Us
Joyce Slaton, Baby Center
Mia Weber, Family Media
David Goldberg, Baby Blossom
Mat York, Dad Mat
Brian Grochal, UL
"The JPMA Innovation Awards are an industry standard and a celebration of innovation and excellence in the juvenile products market," commented Jill Koziol, Co-Founder of Mother.ly and 2018 Innovation Awards Judge. "I'm excited by the products nominated and their user-centered focus on solving challenges for today's parents. I look forward to seeing the products in person in DC."
The winners will be announced on Thursday, March 22 at 6:30 p.m. in Washington, D.C. during the JPMA Baby Show. JPMA will be awarding eight category awards and an overall highest score across all categories -- the Best in Show award. Parents nationwide will also vote on their must-have product for the JPMA Parent's Pick Award. Parent's Pick voting is now live and can be voted on here (https://babysafetyzone.org/hot-topics/2018-parents-pick-award). Media are encouraged to attend the awards ceremony and meet-and-greet immediately following.
The Innovation Awards Competition started in 1989 as the Most Innovative Product Contest and has evolved through the years to become a highly recognized competition. It was officially renamed the "Show Off" Product Competition in 1992, however in 2003, JPMA decided the contest should be called the "Innovation Awards" to more accurately represent the focus on innovation.
Join us at this year's JPMA Baby Show!
For more information on the JPMA Baby Show visit http://jpmababyshow.org.
ABOUT JPMA
The Juvenile Products Manufacturers Association (JPMA) exists as the voice of the industry on quality and safety for products intended for babies and children. We do this by:
Advocating for safety through product certification programs and legislative and regulatory involvement;
Supporting a broad and diverse membership through member-only programming and industry promotion;
And by acting as a comprehensive source for baby product information and education.
JPMA members represent 95 percent of the prenatal to preschool products sold in North America. To find out more information about JPMA, our certification program and products certified, and for a complete listing of JPMA Members, please visit http://www.jpma.org (http://www.jpma.org/). Follow JPMA on Twitter @JPMA and connect with us on Facebook to learn about additional safety tips and JPMA initiatives.