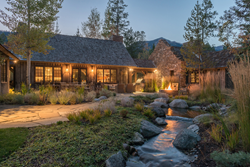 The firm was also recently recognized by Country Living for 'The Coolest Living Room You've Ever Seen.'
BOZEMAN, Mont. (PRWEB) March 15, 2018
Mountain Living magazine recently recognized JLF Architects, with offices in Bozeman, Montana; Jackson Hole, Wyoming; and Park City, Utah, as one of the top architects in the West for 2018. Each year the magazine presents a list of designers and architects in mountain territories who they rank as top in their professions, taking into consideration the work, as well as recommendations from clients, vendors, professional organizations and readers.
"We are pleased to present an exclusive guide to the most talented and influential architects and interior designers at work in the West today," stated the editors of Mountain Living in the introduction to "The ML List: Top Architects & Designers 2018." The magazine extends the recognition to both trendsetters and traditionalists who are shaping architecture and design in mountain regions throughout the U.S.
JLF Architects is no stranger to designing and building in the Mountain West and beyond, and is a 2016 winner of Mountain Living's prestigious Home of the Year honor. The firm is known for creating legacy homes for its clients while maintaining the fundamentals of landscape and craftsmanship over the past four decades, remaining grounded in honest materials and respect for regional context, scale, comfort and simplicity. As a master team of passionate architects working in collaboration with the skilled builders at Big-D Signature, they consistently turn vision into reality and build houses that will stand the test of time.
"It's an honor to be recognized by Mountain Living in the company of our peers in the mountain region," says JLF Architects principal Logan Leachman.
In addition to the recognition from Mountain Living, the firm was also recently recognized by Country Living for what that publication described as "The Coolest Living Room You've Ever Seen," and by House Beautiful, which featured another JLF-designed Wyoming house – made of reclaimed wood and stone from an 1890s dairy farm – that the media outlet said will "Knock Your Socks Off."
JLF Architects is one of 21 architects from communities across Montana honored in the 2018 ML List, which encompasses firms from eight different mountain states and Canada. The complete list of architects and interior designers is available on the Mountain Living website, http://www.mountainliving.com.
About JLF Architects:
Building timeless structures rooted in integrity and simple elegance, Jackson Hole, Park City and Bozeman-based JLF Architects applies distinctive solutions and materials to create place-based houses marked by the influences of landscapes from the Rocky Mountains to the Eastern Seaboard. Their award-winning perspective is powered by inspired design and an exacting eye for placement, an ethos that stems from a unity of nature, beauty, balance and imagination. JLF Architects has established a genuine alliance with Big-D Signature, built over 17 years of working together, to create a streamlined design-build process that benefits clients. The JLF Architects and Big-D Signature design-build team unites passionate architects with dedicated builders to enable the collective imagination of visionary artisans working with visionary clients. For more information visit http://www.JLFArchitects.com.
Media Contact: Seabring Davis, Word PR + Marketing, seabring(at)wordprmarketing(dot)com, 307.734.5335