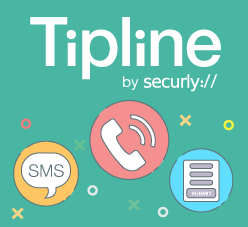 "Securly has been building the Central Nervous System for K-12 schools. With Tipline, we just gave our student safety sensory network thousands of eyes and ears through the entire school student, staff and parent community." - Vinay Mahadik, co-founder/CEO of Securly, Inc.
SAN JOSE, Calif. (PRWEB) March 16, 2018
Securly Inc, the K-12 student safety company announced today that it is expanding its real-time 24x7 monitoring services to include a new anonymous tipping service named Tipline.
Securly was founded in 2013 with the mission of keeping K-12 students safe in schools & at home. The current product portfolio at the core includes the Filter and Auditor products that monitor and filter student web-browser activity & emails. Securly then pioneered the Delegated Admins and Parent Portal (patented) solutions to allow school administrators and parents to have visibility into what kids are searching for on Google, watching on YouTube, saying to each other on Facebook, and researching on websites and Wikipedia etc. Securly then built an Artificial Intelligence layer to automate the daily monitoring of millions of emails and online activities and then flagging any disturbing activities such as social media posts related to bullying, school shooting threats etc.
In 2017, given the high-stakes involved, in order to not rely solely on software algorithms, Securly invested in a 24x7 year-round managed security service (MSS) powered by trained staff members across its offices in California, North Carolina, Mexico and India. This service, named Securly 24 and available today for its Filter and Auditor free and paid products, allows its team with diverse backgrounds in psychology, fraud analytics, criminology, and mental health to be on top of these software AI generated alerts, and using an internally developed incident response tool, investigate these alerts in the context of the overall activity the kid was involved in across all of the vectors Securly monitors. For example, an analyst could look at an AI triggered post that looks like a shooting-threat, and find that the same kid has been plotting an attack for weeks based on his research on Wikipedia, Google searches, and other weapons-related websites, along with posts on social media, or even chatter among his/her friends about his mental health.
Tipline is the latest addition to Securly's student safety portfolio - that extends the vectors monitored by the 24 team to now also include anonymous tips provided by students, staff, parents, and anyone in the school community. Tips can be provided year-round 24x7 via email, phone (1-833-300-STOP), online web-forms, and texts. Information provided is kept anonymous from the schools, and passed along to the schools only as an aggregated report based on an investigation performed by a trained Securly 24 team member. Schools benefit from not having to chase noise, and instead having actionable credible information to act on in most cases. Securly's unprecedented visibility into the entire schools web-browsing and email activity further allows for a uniquely comprehensive reporting.
Tipline is available effectively immediately, and can be used independently of any of the other products from Securly.