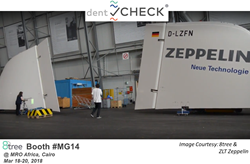 The instant answers and analytics from dentCHECK proved to be incredible in successfully solving our needs
ENGLEWOOD, Colo. & KONSTANZ, Germany (PRWEB) March 14, 2018
When Zeppelin, the legendary brand renowned for airships, encountered severe hailstorm damage on one of its Zeppelin-NT vessels, it turned to 8tree's industry-leading dentCHECK tool to scope the damage and quantify it nearly 10-times faster than traditional methods.
"Thanks to 8tree´s technology it was possible to do a quick and precise analysis of the damage," said Klaus Strasser, Technical Support Manager at ZLT Zeppelin Luftschifftechnik GmbH. "The instant answers and analytics allowed us to quickly assess each dent and define corrective action. This has been very helpful when creating repair instructions. The portability and accuracy of the dentCHECK tool made it very effective and satisfying to use. We were impressed with the compact design and the ease of use. 8tree's dentCHECK proved to be an incredible tool in successfully solving our needs."
"We are humbled that the historic Zeppelin brand called on our dentCHECK technology during their time of need," said Erik Klaas, CTO, 8tree. "It is rewarding to learn that dentCHECK's user-centric design and intuitive 1-button operation so thoroughly delighted the Zeppelin company, just as it has done for the global aviation maintenance industry. This design approach allows us to empower users of all skill levels with 'go/no-go' answers, not just data. We look forward to supporting the Zeppelin company's future needs backed by 8tree's exceptional customer service. At MRO Africa 2018 next week in Cairo, we will share a sneak-peak into several new capabilities that expand the dentCHECK eco-system and enhance operational efficiency for customers."
dentCHECK is the world's only handheld portable and completely wireless 3D scanner to be published with multiple approvals in Airbus' Tool Equipment Manuals (TEMs) for the express purpose of dent-mapping on metallic aero-structures and composite cabin floor-boards. Other aircraft OEMs are expected to issue similar guidance in the coming weeks, enabling more airlines to implement dentCHECK to boost their maintenance efficiency.
The world's leading airlines and MROs use dentCHECK. Detailed case-studies published by TAP-M&E and easyJet, demonstrate that dentCHECK drastically reduces inspection and reporting times by more than 90% and 80%, respectively. As such, it empowers aircraft maintenance operations with first-of-its-kind objective and consistent dent-inspection and blend-out results. This reduces aircraft Turn-around-Time (TaT), which further reduces lost revenues and very directly improves operational efficiency for airlines. dentCHECK enhances safety through an improved understanding of airframe reliability.
For more information and to see dentCHECK in action, visit 8tree (Booth MG14) at MRO Africa, March 18-20 in Cairo, and always at http://www.8-tree.com.
About 8tree
8tree makes 3D optical surface inspection tools that solve chronic problems for multiple industries. 8tree's products empower every operator – from mechanics on the floor, to engineers in the lab – with precision measurement, portability and performance. With its patented user-centric product design, instant 'go/no-go' answers and zero-learning curve, 8tree is committed to making precision 3D scanning more broadly accessible – technically and commercially.