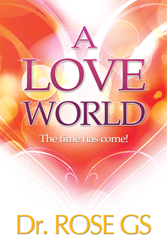 PETALING JAYA, Selangor (PRWEB) March 26, 2018
A Malaysia-based family and love guru has released her inspirational guide to harnessing the power of love, embracing one's true identity and unleashing one's greatness, ultimately fostering individual spirits and healing the world.
In "A Love World," author and speaker Dr. Rose GS presents a revolutionary roadmap of the complexity and deep impact of human spirituality and, through use of personal anecdotes about her own journey to fulfillment, empowers readers to practice self-love and follow their dreams. Drawing on her expertise in relationships, the author also tackles key issues like parenting and discovering one's role in life.
"The concept of the 'love world' starts within each of us – it's about respecting ourselves," Dr. Rose GS said. "By using that inner love, we can light up the world and make it a better, more peaceful place. Love is a powerful energy that can heal the heart and allow for continuous, sustainable success."
Through gentle, easy-to-read passages, "A Love World" offers and inspirational examination of love's power in finding the lost, mending the hurt and promoting worldwide peace in a relatable, uplifting and unprejudiced manner.
"A Love World"
By Dr. Rose GS
ISBN: 978-1-4836-2855-4 (paperback); 978-1-4836-2856-1 (electronic)
Available at the Xlibris Online Bookstore, Barnes & Noble and Amazon
About the author
Dr. Rose GS is an inspirational speaker, family and love guru and author. Dr. Rose GS is passionate about the psychology field and is a Certified Trainer in Neuro-Semantics and Neuro-Linguistic Programming. She holds a doctorate in Social Studies and Development and currently resides in Petaling Jaya, Selangor.
Review Copies & Interview Requests:
LAVIDGE – Phoenix
480-648-7557
dgrobmeier(at)lavidge.com
General Inquiries:
LAVIDGE – Phoenix
480-998-2600 x 584
mdriver(at)lavidge.com