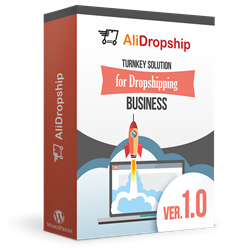 SAN DIEGO (PRWEB) March 14, 2018
A significant upgrade of AliDropship plugin has been released by AliDropship Company.
AliDropship plugin continues gaining popularity across the globe. Over 35,000 entrepreneurs from 120+ countries have built or ordered more than 40,000 dropshipping stores based on this advanced tool. Now they are running lucrative online businesses with AliExpress and enjoying their ever-growing income.
AliDropship Company is constantly refining and updating its plugin to create a perfect AliExpress dropshipping solution. The newest 1.0 version has been released recently with the following features added or improved:

New convenient responsive interface
Advanced pricing mark-up formula
Integrated shipping and delivery date tracking system
Activities list for products and orders
Improved product auto-updating process
…and other new options described in the in-depth review published in the Company's blog.
One of the most anticipated features now available is the brand new shipping and tracking system which is 100% automatic. This revolutionary functional makes the order processing easier than ever: the buyers get all the important order information on autopilot, with zero efforts required from the store owner.
"We are improving AliDropship plugin 24/7 (literally), to optimize it for maximum convenience and flexibility. Every new or refined plugin feature is aimed at our clients' success," says Yaroslav Nevsky, CEO and co-founder of AliDropship Company. "We want all the stores based on our dropshipping solutions to operate perfectly and we want their owners to enjoy hassle-free business management and high profits. This time the improvements are greater than ever: we are proud to present the biggest update in the whole history of AliDropship plugin – and we are sure that the international dropshipping community will highly appreciate it."
The new AliDropship plugin version is available right now at AliDropship.com.
About AliDropship Company
AliDropship is an international IT company working in the global market and developing solutions for AliExpress dropshipping. Its primary goal is to help entrepreneurs worldwide work and earn money through eCommerce. The experienced team of the company draws from diverse professional backgrounds and tailors its services to each client's individual business objectives. Visit alidropship.com to learn more about the Company and its products.