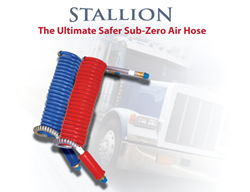 SANTA FE SPRINGS, Calif. (PRWEB) March 19, 2018
Philatron Wire & Cable announces it will exhibit at the 2018 Mid-American Trucking Show to display the Stallion brand coiled air and coiled electrical tractor-to-trailer lines. Whereas the industry is using 1 in 3 lines, Philatron believes that the Stallion Coiled Lines are better by offering USA Quality that can be trusted for greater safety and long term cost savings. Philatron is one of few USA manufacturers that still manufacturers coiled air and electrical lines 100% in the USA.
Philatron air lines have two times the wall thickness of Nylon coiled lines and carry a three year warranty compared to one year warranty for Nylon lines. Heavy Duty fleets, owner operators, truck parts suppliers, and manufacturer representatives are encouraged and welcome to visit Philatron booth for information of why Philatron Stallion brand are the best coiled air and electrical lines in the industry.
Visit Philatron at Booth #36121 - 2018 Mid-American Trucking Show - March 22-24 - Kentucky Exposition Center
About Philatron
Philatron Wire and Cable is a major wire and cable manufacturer in the USA, and is a leader in technology, creativity and innovation - offering a full range of bulk wire & cable and molded cable assemblies - specializing in extra large size flexible cables and coiled cables/cords. As a full service manufacturer Philatron offers FREE DESIGN service for cable solutions. Markets served are Airport Ground Support Electrical Power, Automobile /Heavy Duty Trucking, Consumer, Electrical Distributors, Electrical Vehicle, Entertainment, Medical, Military, Mining, OEM, Oil & Gas, Transportation, and Utility/Power.
MADE IN AMERICA
Visit us at http://www.philatron.com
For additional information contact:
Tammy Ashton - Vice President - Sales and Marketing
(800) 967.9147
tashton(at)philatron(dot)com