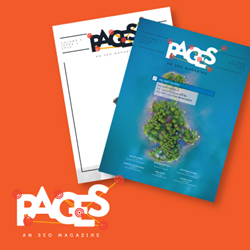 BOISE, Idaho (PRWEB) April 10, 2018
SEO company Page One Power announced the release of PAGES, a new trade magazine about search engine optimization (SEO) for digital marketers. PAGES is a quarterly publication that provides information and news for marketing professionals interested in SEO.
"We wanted to take a new approach to sharing information about SEO with people who want to learn about it. SEO can improve the performance of nearly every website, but it isn't always easy to explain. When we created PAGES, part of the process was figuring out how to clearly communicate the role of SEO in successful digital marketing," explains Editor in Chief Joe Oliver. "The focus of PAGES is the connection between technical SEO tactics and how those fit into a business's marketing strategy on the whole."
SEO is used by businesses to improve their visibility in search engine results and increase online traffic. Each issue of PAGES is themed around an SEO topic, and will include insights from field experts on SEO strategies and tactics, including technical SEO, link building, keyword research, content creation, and building business relationships.
"We're excited to be working with industry experts collaboratively to create a valuable resource for those who want to learn more about SEO and the web," says Page One Power's Marketing and Creative Services Manager Jan Schmidt. "One defining aspect of the SEO industry is the way SEO professionals are eager to work together to learn and improve. We wanted PAGES to be representative of that: helpful, community-focused, and an opportunity to share our experiences with anyone who could use SEO."
Those interested in subscribing to PAGES can sign up on the magazine's website here. The quarterly subscription is free. For advertising details, please contact Jan Schmidt at pagesSEOmagazine(at)pageonepower.com. Those interested in becoming a contributor to PAGES can find guidelines and contact information here.
About Page One Power
Page One Power is an SEO company specializing in link building services. Page One Power provides a full range of SEO services, including custom link building, keyword research, technical SEO auditing, SEO consulting, link building training, and content creation services. Service packages are custom built to help clients get the most out of their SEO investment.
Contact: (208) 229-7046, pagesSEOmagazine(at)pageonepower(dot)com, or http://www.pageonepower.com.
Twitter | Facebook | Linkedin
3100 N. Lakeharbor Suite 254 Boise, ID 83703 United States