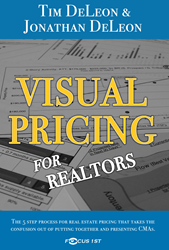 Really great concepts that will help people. Content is awesome!
FORT COLLINS, Colo. (PRWEB) March 16, 2018
On March 13th, 2018, Tim DeLeon and Jonathan DeLeon, co-authors of the upcoming real estate book Visual Pricing For Realtors, celebrated as their book, which is currently in pre-orders prior to its March 27th release, was named #1 New Release in Buying and Selling Homes by Amazon.com.
Tim DeLeon, founder of Focus 1st LLC, a software company that has been creating tools to help Realtors be more effective in their market analysis and presentation skills for over a decade, with the help of Jonathan DeLeon, created Visual Pricing For Realtors to help educate real estate business and sales professionals about a new, visual approach to pricing. Using the expertise Tim has gained from helping real estate agents across the USA and Canada, and guest speaking at training conferences, they created a easy to read and understand guide to pricing with the use of graphs and real information to answer key customer questions.
Real estate professionals who read this Kindle short reads book, will find a simple to learn process which has helped many others gain confidence in their CMAs and increase their sales numbers.