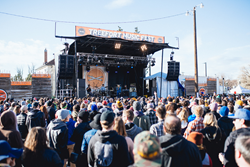 BOISE, Idaho (PRWEB) March 15, 2018
Treefort Music Fest (March 21-25, 2018), an annual arts and culture festival in Boise, Idaho, is bringing over 450 rising and renowned musicians to more than 20 venues in downtown Boise. Treefort will also host a diverse lineup of creators, chefs, artists and innovators at nine forts that reflect growing communities in Boise, like yoga, food, beer, tech, film, literary arts, comedy and skateboarding.
In its seventh year, Treefort will bring funk, soul and rock legend with celebrated his band GEORGE CLINTON & PARLIAMENT-FUNKADELIC, two-time Grammy-nominated lyricist RAPSODY, one-man music machine and undisputed King of Partying ANDREW W.K., alt-rap fashionista PRINCESS NOKIA, Russian feminist punk collective PUSSY RIOT, Chicago-based musician and poet JAMILA WOODS, interdisciplinary musician and artist-curator LIDO PIMIENTA, and many more. See the full lineup at http://www.treefortmusicfest.com/lineup.
At Alefort, more than 30 breweries and cideries will be pouring their best, fresh selections. New this year, four breweries will create a beer using only Idaho ingredients. Alefort is free and open to anyone over age 21.
Comedyfort has a knee-slapping lineup this year, including Gina Yashere who is the new British Correspondent on The Daily Show, Solomon Georgio, who recently premiered on Comedy Central Stand Up Presents, and more.
Filmfort brings emerging independent cinema to downtown Boise, including a uniquely funny and often creepy film, Clara's Ghost, a can't miss collection of short films from Borscht Corp., and more.
Foodfort is a two-part nosh fest: Foodfort Tastes brings stellar local chefs to dish up innovative small plates, while Foodfort Talks hosts invigorating discussions with some the food scene's best and brightest, including chefs Hugh Acheson and Carlo LaMagna.
Hackfort is a digital humanities conference that aims to bring those passionate about tech together to trade ideas and experiences. This year, hear Robin Finck discuss how to write music for video games, write your own level of Assassin's Creed Origins with Ann Lemay and Ceri Young, talk UFO technologies with Alejandro Rojas and Marc Dantonio, and much more.
Kidfort ensures Treefort is for everyone -- even the tiniest festival-goer. Kidfort creates kid-approved events throughout the fest and helps filter the best things for young people to experience during Treefort.
Skatefort is bringing skate teams from Boise, Blood Wizard and Vagrant Skateboards to Rhodes Park in downtown Boise. Skatefort features skate demos, live music from Treefort bands and a rad place to skate and hang.
Storyfort brings poetry, fiction, rock history, hip hop, memoir, journalism, cocktail stories and more to Treefort in the form of panels, podcasts, readings, author Q&A and more! Storyfort is free and open to all.
Yogafort is the place to recharge and re-fort-ify. Three days of yoga, meditation, dance and music with local, regional and international yogis and musicians like Dave Stringer and Kate Swarm.
The full schedule of events, tickets and more information can be found at http://www.treefortmusicfest.com. Stay in the loop with all things Treefort on the mobile app, Facebook, Instagram, Twitter and Snapchat.
###
About Treefort Music Fest
Conceived as an extension of the current momentum in the Boise music scene and art scene at large, our vision is that Treefort will provide the opportunity for Boise to play host to the national and regional music scenes while showcasing the local up-and-coming talent. Treefort Music Fest is proudly recognized as the Cultural Ambassador for the City of Boise 2015-2017 and is a certified B-Corporation.
http://www.treefortmusicfest.com | #treefort2018 | #treefort7 | @treefortfest