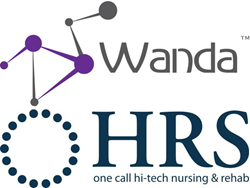 SAN FRANCISCO (PRWEB) March 15, 2018
Health Resource Solutions (HRS) is expanding their use of Wanda Telehealth and Predictive Analytics to provide real time data and informatics to orthopedic surgeons and their clinical teams. HRS Home Health partnered with orthopedic surgeons in Omaha, Nebraska to collect metrics in the patient's home that track patient outcomes post-surgery. HRS identified gaps in clinical information that were not being reported to the surgeons and their clinical teams during the critical time frame from 3 to 14 days of post-operative care. To improve patient outcomes, five key metrics were identified for remote telehealth data collection to assist with real time clinical oversight: Knee Flexion, Knee Extension, Pain with Activity, Knee Circumference, and Quadriceps Strength. Initial pilot results demonstrated a decrease in cost per case of 18% compared to cases not involved in the pilot. Initial pilot cases show a decrease in length of stay (LOS) from 19.4 days to 11.5 days. These patients achieved desired outcomes 41% quicker than prior to the pilot. The integration of Wanda's technology with HRS care interventions has decreased readmissions, LOS and cost of care.
Furthermore, HRS and Wanda developed a patient friendly daily assessment tool in unison with the clinical tool to maintain a strong focus on individual patient experience. The assessment tool allows patients the ability to communicate remotely with their physician and care team. The following information is collected via HIPAA compliant messages to gage patient experience for possible intervention and prevention techniques: Health Zone (Green, Yellow, Red), Calf/Leg Pain (Yes/No), Following Medication (Yes/No), Fever (Yes/No).
Robert Mikulak, Managing Partner and CSO for HRS, noted: "We are very excited by the results we were able to achieve for the patients participating in the Tele-Ortho pilot. A high level of clinical oversight combined with integrated network collaboration has improved clinical outcomes and cost savings for the Patient, Accountable Care Organization (ACO) and The Comprehensive Care for Joint Replacement Program (CJR). Wanda has enabled us to deliver better care, by creating transparency of data for the Surgeons and clinical teams. This allows everyone along the care continuum to make more informed decisions for patients during the recovery process at home. By combining our services with technology and analytics, we are able to provide the right type of care in the right place at the lowest cost."
"It is extremely exciting to see how HRS is utilizing Wanda's technology to achieve such improved outcomes. We continuously work toward advancing our offerings in close collaboration with HRS to enable better patient engagement coupled with new insights into health status trajectory of patients. Human-centered technology is once again proven to be one of the key elements in quality driven modern health care." Said Wanda CEO Foad Dabiri.
HRS is the largest privately owned high-tech nursing and rehabilitation home health agency in Chicago, IL. HRS recently opened an agency in Omaha, NE to service patients in Omaha and Lincoln, NE. Since 2005, HRS has integrated data and technologies with home health services to measure and increase outcomes and value for patients, caregivers and clinicians. More information about HRS can be found at http://www.healthrs.net and http://www.hrsnebraska.com
Wanda is dedicated to advancing the effectiveness and efficiency of medicine by using machine learning and modern software applications, enabling care providers to intelligently monitor, communicate with and manage their patients leading to improved outcomes and efficiencies. More information about Wanda can be found at http://www.yourwanda.com