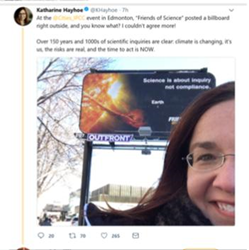 the average individual doesn't live long enough to see the slightest impact of climate change on their lives
Calgary, Alberta, Canada (PRWEB) March 15, 2018
Intergovernmental Panel on Climate Change (IPCC) Chairman Hoesung Lee, of South Korea, decried the Friends of Science Society's billboard campaign in Edmonton, Alberta at the recent IPCC Cities conference, saying Friends of Science should publish in peer-reviewed papers, not on billboards, as reported by the Calgary Sun, March 5, 2018.
Friends of Science Society challenged Chairman Hoesung Lee's comments in a video in which they also questioned the push for 'decarbonizing' Canada. According to Statista, the tiny Republic of South Korea, which imports some 98% of its fossil fuels, emitted more CO2 in 2016 than vast, cold Canada, based on global share.
As an extension of the IPCC Cities conference, on Mar. 6, 2018, Telus SPARK Science center hosted a Calgary Climate Change Symposium event featuring activist George Marshall of the UK and Dr. Katharine Hayhoe of the Faculty of Political Science of Texas Tech University. Together, they implored the 400 members of the audience to tell others how 'climate change has affected your life' in a personal narrative, rather than relying on facts or evidence. The event was covered in a blog post on Watts Up With That on March 13, 2018.
The Telus SPARK session introduced a new Alberta program entitled "Alberta Narratives." Marshall and Hayhoe said there would be facilitators fanning out to communities across Alberta to share the message and get others to share how 'climate change' has affected their lives, in a push for acceptance of wind and solar and carbon taxes.
Friends of Science rejects the program's premise, quoting Dr. John D. Harper, FGSA, FGAC, PGeol., former director of the Geological Survey of Canada, "the average individual doesn't live long enough to see the slightest impact of climate change on their lives." LINK: youtu.be/jhBvlu80soQ
Hayhoe claims climate is warming faster than people realise, as reported by the Edmonton Journal on March 5, 2018. Friends of Science dispute that saying their own City of Calgary climate change reports show that temperature trends do not reflect Dr. Hayhoe's claims.
Friends of Science says the "Alberta Narrative" avoidance of facts and data is reminiscent of Mao-ist "Great Leap Forward" tactics. Nonsensical themes were adopted in the face of evidence of drought – like "Big Drought = Big Harvest" as discussed in the book "Tombstone" by Yang Jisheng. In Maoist China, anyone who dissented was labelled a 'denier' and 'doubter.' The 'grand achievements' of Mao's regime were said to be due to the 'struggle against right-deviating conservatism' – a theme running through the Telus SPARK evening's power point presentation.
"Climate George" Marshall showed slides of a Yale Climate Connection study that indicated Albertans were less likely to go along with climate catastrophe thinking, and this he ascribed to assumed conservative political and religious leanings in Alberta.
In fact, it is Alberta's large base of some 70,000 registered earth scientists and engineers, many of whom are Friends of Science Society members, who challenge climate dogma based on 4.5 billion years of geologic evidence and a meticulous review of the data.
About
Friends of Science Society is an independent group of earth, atmospheric and solar scientists, engineers, and citizens who are celebrating its 16th year of offering climate science insights. After a thorough review of a broad spectrum of literature on climate change, Friends of Science Society has concluded that the sun is the main driver of climate change, not carbon dioxide (CO2).
Friends of Science Society
P.O. Box 23167, Mission P.O.
Calgary, Alberta
Canada T2S 3B1
Toll-free Telephone: 1-888-789-9597
Web: friendsofscience.org
E-mail: contact(at)friendsofscience(dot)org
Web: climatechange101.ca