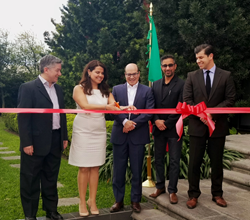 "The decision to expand our presence into Monterrey's industrial corridor was a logical next step in our business growth strategy at this critical period of Digital and IT Transformation in Mexico," said Jose J. Alvarez, Managing Director.
MONTERREY, Mexico (PRWEB) March 15, 2018
As a leading professional services provider serving the DevOps, Agile, and Cloud markets, Zivra continues to expand in the US market and internationally. This is the 5th consecutive year of revenue growth, and Zivra has strengthened its position as one of the industry leaders in Technology Consulting. Latin America has been a priority market for Zivra since its launch in 2013.
Drawing on experience, partnerships, and professional experience from our US Office, Zivra is aiming at assisting enterprises in Mexico, Central America, and South America in realizing their vision of IT automation and transformation. This month, Zivra established the new Monterrey Office in the higher growth commercial and industrial development area near the Zona Valle. The opening of this new international office is evidence of the firm's commitment help our Latin American customers successfully deliver on their DevOps, Cloud, and Infrastructure Transformation initiatives.
"The decision to expand our presence into Monterrey's industrial corridor was a logical next step in our business growth strategy at this critical period of Digital and IT Transformation in Mexico," said Jose J. Alvarez, Managing Director. "The area is rich with talent from local colleges and universities, as well as other high-tech companies. We have the opportunity to further expand our professional services capabilities while increasing our customer base in Latin America."
About Zivra
Zivra provides top quality professional services and industry insight with the goal of helping Enterprises develop and implement their IT transformation strategy. Our mission is to promote strategic initiatives around Development Operations, Cloud provisioning, Security, and custom Agile development to deliver advisory services that increase the effectiveness of an IT organization throughout their software development lifecycle. Zivra is headquartered in Chicago with offices in Texas, DC, the Bay Area, and Mexico. Learn more at http://www.zivra.com