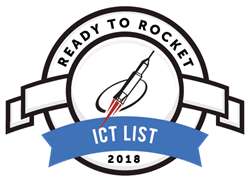 "Mintent is an excellent example of the right technology for the right customers at the right time."
VANCOUVER, B.C. (PRWEB) March 16, 2018
Mintent today announced that it has been named a top Information and Communications Technology (ICT) company as part of the Rocket Builders "Ready to Rocket" business recognition program. The annual program showcases the top private tech companies in British Columbia that are best positioned to capitalize on the technology sector trends that will lead them to faster growth than their peers. This is the 16th year of the Ready to Rocket program, which recognizes companies across the ICT, CleanTech, Digital Health and Life Sciences sectors.
"Each year when we choose the Ready to Rocket companies, we are looking for those companies that have best matched technical innovation with market opportunity. Mintent is an excellent example of the right technology for the right customers at the right time." said Reg Nordman, Managing Partner, Rocket Builders.
"We are proud to be included in Rocket Builder's 2018 "Ready to Rocket" List and recognized as having the right technology to solve current problems in our industry," said Mintent CEO, Matt Dion. "We work with marketers every day and we see the challenge they need to overcome –producing enough engaging content that has a real measurable impact on the business, and doing this consistently and cost effectively. Our content marketing platform helps solve this problem by allowing marketing teams to build a solid content plan aligned with key messages, buyer personas and the customer buying cycle, collaborate on the production of the content, distribute it through their existing marketing platforms and measure the results. We believe one day all content marketing will be done this way."
About Mintent
Mintent is a content marketing platform used by mid-sized and large teams to plan, produce, publish and measure marketing content. Marketers can immediately stop using complicated spreadsheets and convoluted email threads – and start focusing on what they do best. The simple yet sophisticated platform helps marketers more precisely align messages with customer buying cycles, manage concurrent editorial calendars and content marketing workflows to achieve higher returns on their content investment. Customers of Mintent get five powerful modules: marketing calendar, workflows, collaboration and communication tools, asset library and analytics. Customers include CenturyLink, Keysight Technologies, Allianz Global Investors, SurePayroll, Allegion, Premier Inc., and Barrick Gold.
For an overview of Mintent, check out our explainer video.
About Ready to Rocket
Ready to Rocket is a unique business recognition list that profiles technology companies with the greatest potential for revenue growth. Each year, based on analysis of trends that will drive growth in the information technology sector, Rocket Builders identifies the top private companies that are best positioned to capitalize on the trends for growth. This selection methodology has been an accurate predictor of growth with "Ready to Rocket" companies exceeding the industry growth rate and "Emerging Rocket" companies most likely to gain investment. http://www.readytorocket.com
"Ready to Rocket" is a trademark of Rocket Builders, a respected management consulting firm servicing the technology industry.