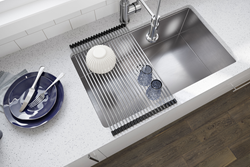 This versatile tool serves many purposes, and rolls up for storage after use.
TOLEDO, Ohio (PRWEB) March 16, 2018
MR Direct is excited to introduce a new product to its extensive line of kitchen sink accessories. The rolling grid is advertised as one of the most practical ideas to come along in quite some time.
This versatile tool serves many purposes, and rolls up for storage after use. It features a series of polished, stainless steel rods that are equally spaced, approximately an inch apart. Each rod is one quarter-inch in diameter and capped on both ends by a flexible, rubber strip to prevent scratches to the countertop. When opened, the rolling grid is an expansive 20 1/16" x 12 7/8", and is large enough to extend over all MR Direct undermount sinks.
The durable construction of the rolling grid gives it the ability to serve numerous purposes in the kitchen. When stretched over the sink, it provides a space for rinsed dishes to drain, frozen foods to defrost, or washed fruits and vegetables to dry. The stainless steel rods are durable enough to support heavy, cast iron cookware. And because it is resistant to heat, hot pots and pans can be set on it to cool.
Another practical use includes placing it over the sink to fill containers with liquids or powders, so any spillage is contained inside the sink. No matter what chore needs to be accomplished, the automatic benefit of this grid being used above the sink is that it frees up countertop space.
But, the rolling grid is not designed to be used exclusively atop the sink. It can also act as a cooling rack or trivet and provides the perfect spot for food or pans to cool efficiently without scorching the countertop.
The clean lines of the stainless steel rods and the black rubberized grips make this an attractive fit wherever it is used. Its space-saving ability to roll up makes it perfect for camping trips or picnics as well. The rolling grid is dishwasher safe and, like all MR Direct accessories, is covered under a one-year limited warranty.
If interested in learning more about stainless steel rolling grids, or any other accessories, sinks or faucets, please visit: http://www.mrdirectint.com.