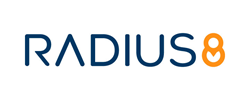 "We are able to combine advanced digital technology with the opportunity to touch and feel our products and experience the brand in stores. This fosters a previously untapped level of connection with our customers and helps us standout as a brand." -Guy Sommerhalder, COO at John Varvatos
NEW YORK (PRWEB) March 19, 2018
Retail technology start-up Radius8, Inc., the leader in localization, announced today that men's premier lifestyle brand John Varvatos has successfully deployed their local retail platform to bring the influence of the physical store to the brand's ecommerce site.
This new functionality allows the customer to browse and reserve items that are available in the nearest John Varvatos store. This enables the shopper to come into the store understanding that their preferred size in a specific product is in-stock and on hold. These store powered experiences are in high demand from consumers - retail wide, 80% of consumers "pre-shopping" their store visit before heading to a brick and mortar location. Providing inventory data and reserve functionality is critical to meeting the rising demands of today's consumer for store-connected pre-shopping experiences.
Beyond delivering the pre-shopping experience, Radius8's technology also enables a more curated experience for customers in-store. After a customer reserves the items online, the store associate immediately begins preparing the merchandise for the client's arrival in store. While the store associate is gathering the reserved items, they are also curating additional pieces for the customer to try on to complete the look. They are able to do this by utilizing critical information captured by Radius8 specifically, customers product interest, size, and other key information the customer may have shared.
According to Guy Sommerhalder, Chief Operating Officer at John Varvatos:
"Working with Radius8 allows us to translate the strength and distinctive nature of our in-store experience to our customers online by offering inventory visibility of locally available products. We are able to combine advanced digital technology with the opportunity to touch and feel our products and experience the brand in stores. This fosters a previously untapped level of connection with our customers and helps us standout as a brand."
Providing this store powered experience for online shoppers drives greater conversion and brings customers into the physical store where average order value and customer lifetime value are maximized.
"John Varvatos is a leading designer brand focused on menswear and an innovator when it comes to retail technology." Says Radius8 Co-founder and CEO Sandeep Bhanote "We're thrilled to be part of such an iconic brand's commitment to technological innovation."
About Radius8:
Radius8 enables retailers to sell more to consumers by creating store-centric online experiences, and in-store experiences based on local digital demand. These experiences are now table stakes to meet today's industry standards and consumer expectations and allow you to improve profitability by increasing consumer engagement. Radius8 can generally be implemented in less than 30 days regardless of a retailer's technology stack, and without requiring changes in store associate behavior or investing in new infrastructure. Customers who have adopted Radius8's technology include GUESS, John Varvatos, and Zumiez.
About John Varvatos:
Launched in 2000 with a collection of tailored clothing and sportswear, John Varvatos now represents an entire men's lifestyle that includes footwear, bags, belts, eyewear, limited edition watches, men's fragrances, and John Varvatos Star USA Collection. The designer has been recognized three times by the CFDA with an American Fashion Award for New Menswear Designer (June 2000) and Menswear Designer of the Year (June 2001 and June 2005) and was honored as GQ's "Designer of the Year" in 2007. In October 2013, John released his first book entitled John Varvatos: Rock in Fashion, which documents the elements of rock style that are intrinsic in the music community. Further rooting the brand in music, John Varvatos entered into a strategic partnership with Republic Records to formally launch John Varvatos Records in February 2014. In 2015, John received several accolades including Most Innovative at MR Magazine's MR Awards Honoring Game Changers in the Menswear Industry, the Cultural Icon Award at the T.J. Martell Foundation's 40th Anniversary Gala, the ACE Award for Designer of the Year given by the Accessories Council, and the Fashion Cares award given by the Samuel Waxman Foundation and in 2016 received the Icon Award For Social Impact at Footwear News' Achievement Awards.
The collections are distributed on line and in freestanding John Varvatos boutiques and better department stores throughout the world.
Visit us at johnvarvatos.com or join us on social media @JohnVarvatos, facebook.com/johnvarvatos, #johnvarvatos and #longliverock