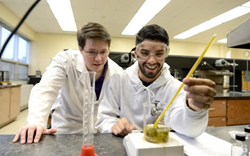 "We're proud of this year's focus on the future of research, which affects many disciplines. FRD research also underscores the promise of today's faculty and students to address critical issues that impact us all," -Dr. Tarek Sobh
BRIDGEPORT, Conn. (PRWEB) March 16, 2018
Faculty Research Day, an annual celebration showcasing the expanse of research at the University of Bridgeport (UB), will be held next Friday, March 23. Events will begin at 9 a.m. at the Arnold Bernhard Center located at 84 Iranistan Avenue in Bridgeport. The public is invited to attend, and the event is free.
This year, Faculty Research Day will focus on the future of research and tomorrow's scholars. Dr. Bogdan M. Vernescu, vice provost for research at Worchester Polytechnic Institute, will deliver the keynote address about "Innovations and Directions in Research in the 21st Century."
The event also includes more than 150 research posters and presentations by UB faculty, graduate students and undergraduates. Projects on display will include multi- and interdisciplinary research currently being conducted among the University's schools and colleges.
A special Undergraduate Research Symposium will feature presentations by UB undergraduates participating in federal research programs, including the Grand Challenges of Engineering, a White House initiative, and the Student Spaceflight Experiments Program, run by the National Center for Earth and Space Science Education. A third student will speak about UB's inaugural 2017 Summer Scholars program.
A designated High School Research area, new to Faculty Research Day this year, will be dedicated to research by students from several Fairfield County high schools, including Fairchild Wheeler Interdistrict Magnet School, Stratford High School, Shelton High School, Notre Dame High School, and Bridgeport Aquaculture School.
"We're proud of this year's focus on the future of research, which affects many disciplines. FRD research also underscores the promise of today's faculty and students to address critical issues that impact us all," said Senior Vice President for Graduate Studies and Research Dr. Tarek Sobh.
Please visit frd.bridgeport.edu/event-details/ for a full schedule of the day's events. Up-to-the-minute dispatches from Faculty Research Day will be posted on March 23. Go to @UbridgeportFRD on Facebook, Twitter, and Instagram and use the hashtag #UBFRD!
About University of Bridgeport
The University of Bridgeport offers career-oriented undergraduate, graduate and professional degrees and award-winning academic programs in a culturally diverse learning environment that prepares graduates for leadership in an increasingly interconnected world. There are 400 full- and part-time faculty members, including Fulbright Scholars, National Science Foundation Fellows, Ford Fellows, and National Endowment for the Humanities Fellows, American Council for Learned Societies Scholars, and Phi Beta Kappa Scholars. The University is independent and non-sectarian. For more information, please visit http://www.bridgeport.edu.