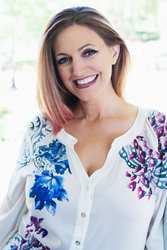 "Lisa Williams is not only one of the world's top psychic mediums, but also a master teacher who knows how to awaken your psychic abilities. And, she is really fun!"-- Victor Paruta
CINCINNATI (PRWEB) March 16, 2018
Three hundred psychics, healers and exhibitors will fill the Sharonville Convention Center in Sharonville, Ohio the weekend of April 7 and 8 for the Victory of Light Psychic Expo.
Experts from around the country will lead 87 seminars on topics such as astrology, past lives, angels and spirit guides from 10 a.m. to 7 p.m. on Saturday, April 7 and Sunday, April 8. Expo tickets, $15 daily/$25 for both days, are available at the door, and include admission to all of the seminars except eight, which have additional fees.
Parking is free; overflow parking is available across the street and at Princeton High School, just a block away. Visit Victory of Light Expo (VOL) on Facebook, online at http://www.VictoryofLight.com or call 513-929-0406 for more information.
Psychic medium Lisa Williams, known world-wide for her hit television show, "Lisa Williams: Life Among the Dead," headlines the Victory of Light Expo this spring.
She will present, "Live Mediumship Demonstrations - Readings for the Audience," from noon to 2 p.m. both Saturday and Sunday ($65, which includes admission to the Victory of Light Expo), and a three-hour workshop, "How to Communicate with Loved Ones in Spirit," geared towards everyone interested in developing their own abilities (all levels, from beginner to advanced), Saturday from 3 to 6 p.m. ($90, which also includes admission to the expo).
"Lisa Williams is not only one of the world's top psychic mediums, but also a master teacher who knows how to awaken your psychic abilities. And, she is really fun!" said VOL founder and executive director Victor Paruta.
Williams will have a booth at the expo all weekend so her fans can meet her. Tickets for Williams' three presentations are available in advance at http://www.VictoryofLight.com or at the door if not sold out.
Lewis Mehl-Madrona, M.D., Ph.D., internationally acclaimed author of Coyote Medicine, Coyote Healing and Coyote Wisdom, returns to VOL to present "Native American Spirituality" (Saturday, 2 p.m.) and "Finding Resilience in Times of Trouble" (Saturday, 4 p.m.).
Dr. Mark Pitstick will present three seminars, all on Saturday. An accomplished chiropractic physician, he is also an author and one of the country's foremost experts on death and dying. Dr. Pitstick presents "Life, Death and the Afterlife" (Saturday, 11 a.m.); "The Angel Wash Meditation: Wash Away Negative Emotions & Experience Unconditional Love" (Saturday, Noon); and a guided hypnosis session, "Facilitated After-Death Contact Session," (2 hours, $20) Saturday at 1 p.m.
Victory of Light will also have 14 animal psychics who can provide insights into your pet. Attendees are asked to bring pet photos only, not the pets.
"The nearly 6,000 people who attend our expo love the psychic readings and the seminars," said Paruta. "The expo is an exciting mix of entertainment and inspiration, a great place to recharge in a fun-filled atmosphere with live music, aura photography, art exhibits and lots of great shopping."
The expo features several public demonstrations of psychic abilities including Paruta's popular "Ask a Psychic" presentation on Sunday at 2 p.m. and many seminars on developing your own psychic powers using techniques such as dream analysis, channeling, interpreting signs and symbols, mediumship, medical intuition, palmistry and numerology.
The expo has more shopping opportunities than can be covered in a day, including crystals, minerals and gemstones, fine hand-crafted jewelry, art, fashion, books, music, wearables and all-natural wellness products. Aura photography, face painting and henna tattoos will also be available. More than 100 psychics and holistic practitioners will provide personal readings and healings (additional fee $20-40). Always family-friendly, the expo also has a full menu of healthy food and beverage choices available for purchase.
Live original music will be performed all weekend by Mark Kenworthy (keyboards), award- winning Native Flutist Douglas Blue Feather, and Ron Esposito (crystal bowls). A downloadable schedule with seminar descriptions and lists of exhibitors can be found at http://www.VictoryofLight.com.
About Victor Paruta:
A highly sought-after and respected psychic reader and spiritual consultant, Victor Paruta was featured on two episodes of "Beyond Belief" with host George Noory on Gaia TV. Named "Best Psychic" (Cincinnati Magazine) for his "mysteriously accurate and compelling readings," Paruta is a regular guest on radio and television and has been featured in dozens of articles and publications. He has also appeared on ABC's "The View."
About The Victory of Light Expo:

Dates: Saturday and Sunday, April 7 and 8, 2018
Hours: 10 a.m. to 7 p.m. both days
Location: Sharonville Convention Center, 11355 Chester Rd., Cincinnati 45246
VOL Tix: $15 per day; $25 for both days; Children 12 & under- FREE; $2 discount for seniors (60+); students and active duty military (with ID)
Special Event Tix: Tickets to Lisa Williams' workshops are available in advance at http://www.VictoryofLight.com or at the door if not sold out. Tickets to other 2- hour seminars are available at the seminar.
Expo Admission Tix: Sold at the door the day of the event. Expo admission included with ticket purchase to one of Lisa Williams' workshops.
Parking: On-site, FREE. Also across street and at Princeton High School, one block away.
Information: Call 513-929-0406, email Victor(at)VictoryofLight(dot)com, visit http://www.VictoryofLight.com or Victory of Light Expo on Facebook.