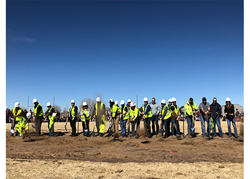 The old school has served its purpose but it's time to move on to better things
BRUSH, Colo. (PRWEB) March 15, 2018
On a sunny day in March, students from Thompson Primary School, Beaver Valley Elementary School, Brush Middle School and Brush High School celebrated and participated in the ground-breaking event for the new Brush High School/Middle School Campus. In addition, representatives from GMCN Architects, Adolfson & Peterson Construction (AP), Cooperative Strategies, the state BEST program and Colorado Land Board were in attendance to help break ground.
Located in rural Colorado, Brush School District received a BEST grant to address the health, safety, security, and educational deficiencies in their current Middle School and High School. The project will construct a new middle school and high school complex on the site of the old high school, and re-purpose and renovate portions of the old high school building. The project will consist of roughly 129,000 sf of new construction and 42,000 sf of renovation.
"All of the students coming forward will have the benefits of a new school," said Dr. Bill Wilson, District Superintendent. "The old school has served its purpose but it's time to move on to better things."
Wilson encouraged students, faculty and staff of Brush School District to "move that dirt" as they approached the shovels at the ground-breaking.
"We're ready to get things started and deliver a new school to this deserving community," said AP Senior Project Manager, Ryan Anderson. "The students were so excited to kick off this project and their positive energy at the ground-breaking reaffirms why AP loves to be part of K-12 construction projects."
The Brush High School/Middle School Campus is expected to be complete in early 2020.