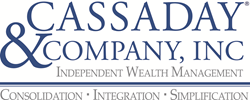 "Being a fiduciary was our focus before it was an industry buzz word or legal obligation – it's why I took a risk and went independent in 1993, so that I could provide investors with objective, unbiased advice with no economic incentive to recommend or push particular investments."
McLean, Virginia (PRWEB) March 15, 2018
World-renowned investment publication, Barron's, which is operated by Dow Jones, has ranked Stephan Cassaday, Founder and CEO of Cassaday & Company, Inc., the top financial advisor in the state of Virginia on its annual 'Top 1,200 Financial Advisors: State by State' list. This is the fourth time in the last five years Cassaday has been awarded the top spot on the 'State by State' list, Barron's largest, most comprehensive ranking that evaluates not only independent advisors but advisors from Wall Street firms as well.
"To be recognized by an industry leader like Barron's is a testament to the entire Cassaday & Company, Inc. team and their dedication to our clients," said Cassaday. "Being a fiduciary was our focus before it was an industry buzz word or legal obligation – it's why we abandoned the traditional Wall Street model and went independent in 1993. We wanted to be able to provide investors with objective, unbiased and impartial advice with no economic incentive to recommend or push particular investments or strategies. We are grateful that our clients recognize our firm's distinguishing factors and are honored they continue to place their trust in us," said Cassaday.
Barron's 'Top 1,200 Financial Advisors: State by State' 2018 rankings are based on data provided by more than 4,000 financial advisors nationwide. Advisors are evaluated based on: assets under management, revenue produced for the firm, regulatory record, quality of practice, and philanthropic work. Investment returns are not a component of the rankings because an advisor's returns are dictated largely by the risk tolerance of clients. The number of advisor rankings per state is determined by a state's population and wealth. The full list of rankings can be found at http://www.barrons.com/report/top-financial-advisors/1000/2018.
###
About Cassaday & Company, Inc.
Cassaday & Company, Inc. is an independent wealth management firm located in McLean, Virginia, with more than $2.7 billion in assets under management serving approximately 1,900 households (as of February 2018). Founded by Stephan Cassaday in 1993, the firm's mission is, "to provide objective guidance to investors seeking advice about their financial situations, to do so with the highest levels of honesty, integrity, and overall excellence possible, and to provide faultless quality and courteous service – at a reasonable price." Since its inception, Cassaday & Company, Inc. has been recognized for employee development, community service, as a best place to work, as one of the fastest growing companies in the country, and as one of the top wealth advisors in the United States, by outlets such as Forbes, Inc. 5000, Invesment News, Financial Times, Washingtonian, and more. For a full list of awards and award details, see here http://www.cassaday.com/awards-and-recognition/.
Securities offered through Royal Alliance Associates, member FINRA/SIPC. Investment advisory and insurance services offered through Cassaday and Company, Inc., a registered investment adviser not affiliated with Royal Alliance Associates. Third-party rankings and recognitions are no guarantee of future investment success and do not ensure that a client or prospective client will experience a higher level of performance or results. These ratings should not be construed as an endorsement of the advisor by any client nor are they representative of any one client's evaluation. To learn about these criteria for all of these awards, please visit http://www.cassaday.com/disclosures.