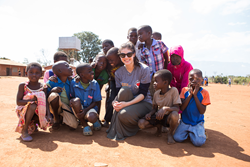 "I met so many children and mothers who worry they won't reach their next birthday, simply because they don't have access to the medicine and treatment they need. But we can help."
LOS ANGELES (PRWEB) March 15, 2018
Alexandra Daddario announced today that she is dedicating her birthday on March 16 to raise funds for the United Nations Foundation's Nothing But Nets campaign and The Elizabeth Taylor AIDS Foundation (ETAF). The Baywatch star traveled to Malawi this past summer to visit programs supported by the two organizations.
"This year, nothing would make me happier than to donate my birthday to support the communities I met while I visited Malawi," said Daddario. "ETAF and Nothing But Nets have joined forces to help protect families in Malawi from HIV and malaria, two deadly diseases that cause more than 2 million deaths a year and burden communities around the world. I met so many children and mothers who worry they won't reach their next birthday, simply because they don't have access to the medicine and treatment they need. But we can help."
The partnership between ETAF and Nothing But Nets is a strategic approach to offering holistic care in order to tackle two deadly diseases that cripple communities. By combining resources, the organizations aim to continue a sustainable impact in the villages of southern Malawi where ETAF has worked with its implementing partner, the Global AIDS Interfaith Alliance (GAIA) since 2008. Due to the severe impact malaria can have on a person with HIV, it is critical to fight both diseases simultaneously.
On March 19, Alexandra will join Quinn Tivey, Trustee of Elizabeth Taylor's estate and The Elizabeth Taylor AIDS Foundation on stage at the Nothing But Nets annual Leadership Summit in Washington D.C. Over 200 youth leaders in the fight to end malaria from over 30 states will listen to Alexandra and Quinn discuss "The Power of Partnerships" and expand on the impact of the mobile health clinics Daddario visited in August 2017.
To donate to Alexandra's birthday fundraiser, go to nothingbutnets.net/alex [nothingbutnets.net/alex. __title__ Alex's Birthday Fundraiser]
Media Contacts:
ETAF
Cristin Klein | Cklein@etaf.org | 310-476-6333
Nothing But Nets
Ryland Devero |rdevero@unfoundation.org |202-854-2350
About The Elizabeth Taylor AIDS Foundation:
ETAF was established by the legendary actress, Elizabeth Taylor in 1991 to provide grants to existing organizations offering direct care to people living with and affected by HIV and AIDS. Since its inception, ETAF has concentrated on supporting marginalized communities and has expanded our funding to support innovative HIV prevention education and advocacy programs. To date, ETAF has granted to more than 675 organizations in 44 countries and 42 states in the U.S. Visit http://www.ETAF.org to learn more.
About Nothing But Nets:
Nothing But Nets is the world's largest grassroots campaign to save lives by preventing malaria, a disease which claims the life of a child every two minutes. Inspired by sports columnist Rick Reilly, hundreds of thousands of people have joined the campaign that was created by the United Nations Foundation in 2006. Nothing But Nets has raised over $65 million to help deliver 12 million bed nets to families in need, along with other crucial malaria interventions. In addition to raising funds for its UN partners, Nothing But Nets raises awareness and voices to advocate for critical malaria funding for the U.S. President's Malaria Initiative and The Global Fund to Fight AIDS, Tuberculosis and Malaria. It only costs $10 to help save lives from this deadly disease. Visit http://www.NothingButNets.net to defeat malaria.
About The United Nations Foundation:
The United Nations Foundation builds public-private partnerships to address the world's most pressing problems, and broadens support for the United Nations through advocacy and public outreach. Through innovative campaigns and initiatives, the Foundation connects people, ideas, and resources to help the UN solve global problems. The Foundation was created in 1998 as a U.S. public charity by entrepreneur and philanthropist Ted Turner and now is supported by philanthropic, corporate, government, and individual donors. Learn more at: http://www.unfoundation.org.