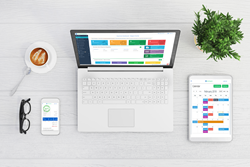 We believe that enough blockchain-based smart contract technology already exists to effectively solve many post-divorce inefficiencies
NEW YORK (PRWEB) March 17, 2018
SmartCoparent, the family technology company creating tools that empower co-parents and professionals to increase collaboration and encourage better living, today announced the formation of its Independent Strategic Advisory Board (ISAB) comprised of leading experts in emerging technologies and family law. The ISAB will serve as both strategy and technology counsel, working closely with SmartCoparent's founder to advance the development of the company's platform and broaden connectivity within the family law community.
The inaugural members include:
Vanessa Fernandes, MBA is the CTO for Emerging Technologies in the US for the largest bank in Latin America and is a recognized technology thought leader in global financial markets. Vanessa specializes in assessing and collaborating with innovative Fintech startups in emerging technologies including, Artificial Intelligence (AI) and Distributed Ledger Technologies (DLT). Vanessa has earned a number of executive credentials including a certificate in Innovation and Strategy from Harvard University and certificates in Management & Leadership and Managing Technical Organizations from MIT. Vanessa earned a post-graduate degree in Derivatives from BM&F and holds an MBA from Fundacao Getulio Vargas, Brazil in Technology and Business Management from UC Irvine.
Says Greg, "Vanessa's vast experience in emerging technologies will allow us continuously improve the SmartCoparent experience and achieve our long term vision, which is development of an open-sourced, blockchain-based platform. The post-divorce financial and logistics system is one of the most arcane life events a person can experience. It is in desperate need of innovation. We believe that enough blockchain-based smart contract technology already exists to effectively solve many post-divorce inefficiencies."
David L. Mejias, Esq. is a former Nassau County, New York legislator and is Managing Partner of Mejias, Milgrim and Alvarado PC. David has been named as one of Long Island Business News "40 Rising Stars Under 40" to watch, and named to the Long Island Press Power List as one of the 50 Most Powerful & Influential Long Islanders for four consecutive years. David has handled a multitude of matrimonial cases and personal injury cases and has fought for the rights of victims of domestic violence. He has been recognized by the Coalition Against Domestic Violence for his efforts on their behalf. David Mejias is a graduate of The University at Albany School of Business and Fordham University School of Law.
Says Greg, "As a former legislator and a nationally-recognized family attorney, Dave has invaluable experience in navigating through the family court system and understands deeply what pains family court judges and attorneys alike. Dave will be instrumental in helping us educate both family law professionals and the judicial community about the immediate benefits and lasting value of the SmartCoparent solution."
About SmartCoparent
SmartCoparent is the new full-featured co-parenting platform developed to instantly enable smarter collaboration and encourage better living. Launched in 2018 with the vision to re-imagine the way co-parents and professionals communicate around the world, SmartCoparent is endorsed by the Institute for Divorce Financial Analysts (IDFA®) and is focused on emerging technologies to improve people's lives. With SmartCoparent, individuals, families and professionals can reduce a wide range of co-parenting conflicts and complications, increase collaboration, restore order and regain peace of mind. SmartCoparent was founded by, Certified Divorce Financial Analyst (CDFA®), MBA, Gregory Wagner. SmartCoparent is a subsidiary or Aeonic Ventures, LLC and is proudly made in New York, USA.