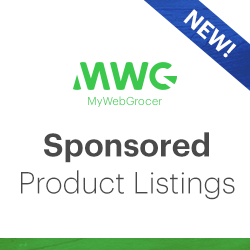 built to drive sales and increase product awareness
WINOOSKI, Vt. (PRWEB) March 16, 2018
MyWebGrocer (MWG), the leading enterprise software and digital media company to the grocery and Consumer Packaged Goods (CPG) industries, announces the launch of their Sponsored Product Listing Solution. With prominent placement on a retailer's digital property, the Sponsored Product Listings Solution drives action and increased conversions for CPG brands.
"MWG's new Sponsored Product Listings Solution was built to drive sales and increase product awareness for our CPG brand partners while ensuring a seamless and relevant shopping experience", said Viktor Jagar, MWG's Vice President of Media Product. "Search is a prominent way for shoppers to find and discover new products in eCommerce and a widely known tactic digital shoppers use to build their lists/carts. MWG built this new solution to be native within a retailer's digital property and strategically aligned with a merchant's sales objectives."
CPG brands are investing more with retailers who enable performance-based digital media measured on clicks and views. MWG's new Sponsored Product Listings Solution is priced on a CPC model to drive performance and measurable results. CPG brands bid on relevant keywords to increase their native search exposure, driving sales and increasing market share of their products.
To learn more about MWG's new Sponsored Product Listings Solution or to schedule a demo, contact marketing@mywebgrocer.com, or visit the website at http://www.mywebgrocer.com.
About MyWebGrocer
MyWebGrocer (MWG) is the leading enterprise software and digital media company connecting Retail Grocers, Consumer Packaged Goods brands and shoppers through its Digital Experience Platform and holistic set of integrated service offerings. The platform powers every digital interaction to attract, engage, transact with and retain grocery shoppers through digital offerings ranging from planning and eCommerce to mobile and social. The company also helps Consumer Packaged Goods brands reach shoppers with relevant and contextual advertising, promotions and offers throughout their grocery path to purchase. For more information, visit: http://www.mywebgrocer.com