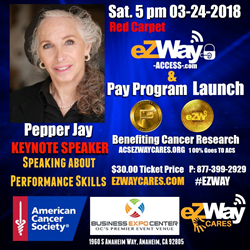 "Charismatic Pepper Jay Hones a Lifetime of Studying Audience Psychology to Create "Dynamic Song Performance, The Singer's Bible." Huffington Post
ANAHEIM, Calif. (PRWEB) March 19, 2018
eZWay Events in conjunction with eZWay Cares is excited to announce Pepper Jay as keynote speaker for its soft launch of the eZWay Loyalty, Cashback, Rewards Mastercard giving back to the American Cancer Society.
This charity event will be held on Saturday, March 24th, 2018, at the Business Expo Center in Anaheim, California. The red-carpet and networking begins at 5:00 p.m. and the program at 7 p.m.
Reatha Grey, one of the hip, sexy, ready-to-party-senior pranksters starring on the NBC hit series, "Betty White's Off Their Rockers," will host the event.
The evening will include a special magic performance by Magic Castle Magician Evan Disney, musical entertainment by Soul Train Line Dancers, networking opportunities, and a celebration of Eric Zuley's birthday.
Other celebrities and VIP guests set to attend include Kate Linder Young & The Restless (Star On Hollywood Walk Of Fame), Edward James Almos (Award winning actor), Burt & Tracy Ward (Gentle Giants Dog Charity), Shevyn Roberts, Actress, Artist, Opened for Justin Bieber, - Paul Pratt Retired NFL Detroit Lions, Non-Profit Founder, Public Figure, Loren West Contributor Huffington Post, Larry Witherspoon Owner 24 FilmOn.TV Channels, Steve Resnik eZWay Award recipient, Music Legend, Shellie Hunt eZWay Award recipient, Non-Profit Mogul, Speaker, founder Women Of Global Change, Tracy Repchuck Forbes Couches Council speaker in 34 countries, Internet Marketing expert, Bougart Linares Soto Film Maker, works with Netflix etc.., Marlena Martin Founder of Women Of Achievement, Al & Raquel (Founders Kiss The Monkey's), Andy McPhee (Actor, Acting Coach), Pattie Godfrey Sadler NLCP Coach, Rasheed Lateef founder of ScienceBullies.org.TV, to name a few.
Performance coach and keynote speaker, Pepper Jay, transforms filmmakers, teachers, lawyers, singers, musicians, speakers, anyone in front of an audience into dynamic effective communicators. Pepper Jay specializes in audience psychology. Pepper Jay is a master at performance skills and speaks domestically and internationally, most recently in Nigeria, Paris, and Jerusalem.
Formerly an attorney for 30 years, public school teacher 12 years, and translator, Pepper Jay's teaching has helped to improve peoples' stage presence, sales presentation, audience interaction, interviewing and film and TV pitching skills, and to book more jobs. Pepper Jay's text, "Dynamic Song Performance, The Singers Bible," does very well on Amazon.
Pepper Jay currently resides in Pahrump, Nevada, where she continues to produce music with her partner, John Michael Ferrari, and to publish the online entertainment trade magazine, Actors Reporter. Learn more about Pepper Jay and her book, "Dynamic Song Performance, The Singer's Bible," at http://www.pepperjay.com .
Other speakers for this special evening include Eric "eZway" Zuley FOUNDER eZWay Network, CMO iLaunch Global, Brian Smith FOUNDER of Ugg Boots, Jeff Spenar, CEO of VoiceAmerica, Dr. Dante Sears on Crypto Currency, and Erik Swanson the Habitude Warrior on Success.
100% of the proceeds from this event go to the non-profit beneficiary, American Cancer Society.
Sponsors of the eZWay Cares and American Cancer Society event include Safe Solutions Now, Inspired Images Studios, My Real Earth, and Corn Bread Booking Agency.
To purchase tickets, visit http://www.ezwaycares.com ... minimum ticket price is $30.00. Tickets available at the door, room permitting. Should you wish to make an additional donation to the American Cancer Society, text ACS to 91999 or go to http://www.acsezwaycares.org
The Business Expo Center is located at 1960 S Anaheim Way, Anaheim, California 92805.
Thank you,
EZWay Cares