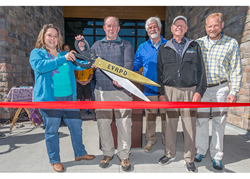 What a magnificent building and a magnificent crowd
ESTES PARK, Colo. (PRWEB) March 16, 2018
A large crowd gathered for the ribbon cutting ceremony of the new Estes Valley Community Center. The renovation and addition project transformed a 10,900-sf aquatic center into a multigenerational community recreation center.
The project began with renovating the existing aquatic center and reopening it in December 2017 for use. The 52,756-sf multigenerational community space was built as a large addition and includes senior services, library resources, family and youth amenities, meeting rooms and gathering spaces. The recreation space includes an indoor walking track, aquatics facilities, multi-purpose gymnasium space, group exercise/fitness areas, golf simulator, child watch area and locker/family changing rooms.
"What a magnificent building and a magnificent crowd," said Tom Carosello, Executive Director of Estes Valley Recreation and Park District, who kicked off the event and thanked the community and the many members involved in the project.
After the grand opening celebration, the community was able to tour the new facility. "We want to make it a community location, a place where everyone can come and be safe and enjoy this beautiful surrounding we live in," said Dawn Wilson, Marketing & Communications Manager of Estes Valley Recreation and Park District.
RLH Engineering was the Owner's Representative and Ohlson Lavoie Collaborative was the architect on the project.
Photo Courtesy of Dawn Wilson