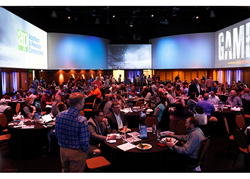 Our unique culture sets us apart from other general contractors and is why our employees have an average tenure of over seven years
ESTES PARK, Colo. (PRWEB) April 24, 2018
Adolfson & Peterson Construction (AP) has been awarded a 2018 Top Workplaces honor by The Denver Post. The list is based solely on employee feedback gathered through a third-party survey administered by research partner Energage, LLC (formerly WorkplaceDynamics), a leading provider of technology-based employee engagement tools. The anonymous survey measures several aspects of workplace culture, including alignment, execution, and connection, just to name a few.
The event, considered the Oscars of the HR industry, included a celebration gala with winners across Colorado. AP placed 33 out of 50 in the midsize company category. The Top Workplaces survey reflects the responses of more than 48,000 Colorado workers.
"Top Workplaces is more than just recognition," said Doug Claffey, CEO of Energage. "Our research shows organizations that earn the award attract better talent, experience lower turnover, and are better equipped to deliver bottom-line results. Their leaders prioritize and carefully craft a healthy workplace culture that supports employee engagement."
"Our culture functions on the premise that successful employees make successful clients and projects," said AP's Regional President Tom Horsting. "We foster an environment of family and growth, seeking to balance personal fulfillment with professional achievement. As a family company, our culture honors traditions and values which were instilled by our founders. Our unique culture sets us apart from other general contractors and is why our employees have an average tenure of over seven years. I'm honored by this award and the great team members we have here."
"Becoming a Top Workplace isn't something organizations can buy," Claffey said. "It's an achievement organizations have worked for and a distinction that gives them a competitive advantage. It's a big deal."
About AP
Adolfson & Peterson Construction (AP) is a U.S.-based, privately held builder that is consistently ranked among the top 50 construction managers and general contractors in the nation. Headquartered in Minneapolis, Minnesota, the company delivers innovative and collaborative building solutions for clients across the country from its regional offices in Dallas, Denver, Minneapolis and Phoenix. Founded in 1946, AP serves clients in the education, healthcare, commercial, municipal, multifamily, hospitality and senior living market sectors. For more information, visit http://www.a-p.com or follow us on Facebook, LinkedIn and Twitter.
About Energage, LLC
Headquartered in Exton, Pa., Energage (formerly known as WorkplaceDynamics) is a leading provider of technology-based employee engagement tools that help leaders to unlock potential, inspire performance, and achieve amazing results within their organizations. The research partner behind the Top Workplaces program, Energage has surveyed more than 47,000 organizations representing well over 16 million employees in the United States.