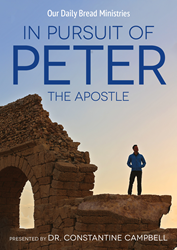 GRAND RAPIDS, Mich. (PRWEB) March 16, 2018
Our Daily Bread Films is proud to announce the upcoming release of their groundbreaking video series, "In Pursuit of Peter" – filmed entirely on location on Israel, Turkey and Rome. Part documentary, part travelogue, this exciting new Bible Study is a six part series on the life of the Apostle Peter. "In Pursuit of Peter" will be available on DVD and digital on April 4, 2018.
Watch the "In Pursuit of Peter" trailer: https://vimeo.com/257142545
How did Peter transform from an uneducated fisherman into one of the most celebrated and beloved Jesus-followers in history? New Testament scholar Con Campbell wanted to find out. It's one thing to read about people in Scripture. It's another thing to trace their life histories to more fully understand their backgrounds and the profound effect Jesus had on them. Campbell invites you to join him in his pursuit of Peter.
Explore the places where Peter lived and traveled, starting by the Sea of Galilee where he labored as a fisherman--an unlikely disciple, but purposely called by Christ. Continue the journey to Jerusalem, Turkey, Rome, and other locations where Campbell meets people who provide insights into Peter's passionate personality. You'll see the life of Peter unfold through Scripture, interviews, and stunning on-location footage.
Campbell is Professor of New Testament at Trinity Evangelical Divinity School. He is the author of several books on the Greek language and the Apostle Paul, including "Paul and Union with Christ," which was the 2014 Christianity Today Book of the Year in Biblical Studies. Campbell is a busy speaker, author, and professionally trained jazz musician. He and his family moved to the United States from their native Australia in 2013.
"In Pursuit of Peter" follows the 2017 release of "In Pursuit of Paul." The upcoming third installment in the series, "In Pursuit of John," is scheduled to begin production in May 2018 with an anticipated release date of August 2019.