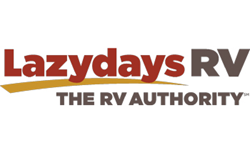 We believe the public listing and additional capital raised through this transaction will accelerate Lazydays' growth initiatives and help to deliver long-term value for shareholders.
TAMPA, Fla. (PRWEB) March 15, 2018
Lazydays R.V. Center, Inc. ("Lazydays") and Andina Acquisition Corp. II (NASDAQ: ANDAU, ANDA, ANDAR, ANDAW) ("Andina" or the "Company") today announced the closing of their previously announced business combination. The business combination was approved at Andina's extraordinary general meeting of shareholders held earlier today. In connection with the consummation of the business combination, the combined company was renamed Lazydays Holdings, Inc. It is anticipated that on or about March 16, 2018, the combined company's common stock will commence trading on the Nasdaq Capital Market under the ticker symbol "LAZY."
Lazydays is a premier recreational vehicle ("RV") dealership destination and The RV Authority™ on new and pre-owned RV sales, service, rentals and accessories. Lazydays provides a vast product offering of both motorized and towable RVs in five locations across three strong geographic markets. Complementary high-margin revenue streams include financing and insurance (F&I), service and repair, parts and accessories, rentals, and hospitality offerings. More than 9 million households now own an RV and the customer base is expanding as a result of strong interest in the RV lifestyle from the baby boomer and millennial demographics.
William P. Murnane, Chairman and CEO of Lazydays stated, "Our vision has been to become a public company so we would have access to the capital markets in order to accelerate our geographic expansion strategy. The Lazydays brand and model is well positioned to support a national network of RV dealerships and service centers. We believe that over time we can generate above-market growth in the highly fragmented RV dealership market. The financings associated with this transaction will give us the balance sheet flexibility and liquidity to support our growth strategy and bring our exceptional customer experience and product expertise closer to our loyal customers throughout the country."
"We are extremely excited to join forces with Lazydays RV," stated Luke Weil, Founder of Andina. "We believe the public listing and additional capital raised through this transaction will accelerate Lazydays' growth initiatives and help to deliver long-term value for shareholders."
Craig-Hallum Capital Group acted as exclusive placement agent for the private placement transactions and Craig-Hallum Capital Group and EarlyBirdCapital, Inc. acted as M&A Advisors to Andina. Graubard Miller, and Maples and Calder acted as legal counsel to Andina. Stroock & Stroock & Lavan LLP acted as legal counsel to Lazydays.
About Lazydays
Lazydays, The RV Authority™, is an iconic brand in the RV industry. Home of the world's largest recreational dealership, based on 126 acres outside of Tampa, Florida, Lazydays also has dealerships located in Tucson, Arizona, and Loveland, Denver and Longmont, Colorado. Offering the nation's largest selection of leading RV brands, Lazydays features more than 2,500 new and pre-owned RVs, over 300 service bays and two on-site campgrounds with over 700 RV campsites. Lazydays also has rental fleets in Florida, Arizona and Colorado. In addition, Lazydays RV Accessories & More stores offer thousands of accessories and hard-to-find parts at all of our dealership locations.
Since 1976, Lazydays has built a reputation for providing an outstanding customer experience with exceptional service and product expertise, along with being a preferred place to rest and recharge with other RVers. Lazydays consistently provides the best RV purchase, service, rental and ownership experience, which is why more than a half-million RVers and their families visit Lazydays every year, making it their "home away from home."
Lazydays Holdings, Inc. is a publicly listed company on the NASDAQ stock exchange under the ticker "LAZY." Additional information can be found at https://www.lazydays.com/investor-relations.
Forward‐Looking Statements
This news release includes "forward-looking statements" within the meaning of the "safe harbor" provisions of the United States Private Securities Litigation Reform Act of 1995. Forward-looking statements may be identified by the use of words such as "estimate," "plan," "project," "forecast," "intend," "expect," "anticipate," "believe," "seek," "target" or other similar expressions that predict or indicate future events or trends, or that are not statements of historical matters. Such forward-looking statements with respect to the benefits of the business combination, the future financial performance of Andina following the business combination, changes in the market for Lazydays' services, and expansion plans and opportunities, including future acquisition or additional business combinations are based on current information and expectations, forecasts and assumptions, and involve a number of judgments, risks and uncertainties. Accordingly, forward-looking statements should not be relied upon as representing Andina's views as of any subsequent date, and Andina does not undertake any obligation to update forward-looking statements to reflect events or circumstances after the date they were made, whether as a result of new information, future events or otherwise, except as may be required under applicable securities laws. Undue reliance should not be placed on these forward-looking statements. As a result of a number of known and unknown risks and uncertainties, actual results or performance may be materially different from those expressed or implied by these forward-looking statements. Some factors that could cause actual results to differ include, but are not limited to: (1) the outcome of any legal proceedings that may be instituted against Lazydays or Andina following announcement of the business combination and related transactions; (2) the ability to maintain the listing of the combined company's common stock on the Nasdaq Capital Market following the business combination; (3) the ability to recognize the anticipated benefits of the business combination, which may be affected by, among other things, competition and the ability of the combined business to grow and manage growth profitably; (4) changes in applicable laws or regulations; (5) the possibility that Lazydays may be adversely affected by other economic, business, and/or competitive factors; and (6) other risks and uncertainties indicated from time to time in the definitive proxy statement/prospectus/information statement filed by the parties in connection with the business combination, including those under "Risk Factors" therein, and other factors identified in the parties' prior and future filings with the SEC, available at http://www.sec.gov.