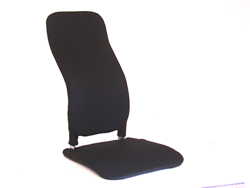 SACRO-EASE back supports are available in various styles, colors, and sizes for ultimate back pain relief in any situation.
COEUR D'ALENE, Idaho (PRWEB) March 20, 2018
McCarty's is on a mission to help people correct their poor posture. With that in mind, it developed SACRO-EASE. The innovative product helps one's back, driving posture and sitting correctly.
"This product was developed by us because the seat sizes keep changing. They have gotten deeper and much more narrow. We had to have one that fits between the side bolsters -- fills in the deep hole and gets their head away from the tilted non-adjustable headrest. The back is 24" tall to fill in that void supporting the entire back," said Kerry Cordova, COO of McCarty's.
SACRO-EASE has a 10.5-inch-wide back compared to similar products that are 19" or 14", and the seat is 14" wide and 16" deep so it fits into the deep bolsters in the car. "SACRO-EASE back supports are available in various styles, colors, and sizes for ultimate back pain relief in any situation," added Cordova.
SACRO-EASE is also backed by a 5-year warranty. It is sold on Amazon and in Relax The Back, Healthy Posture Store, Healthy Back, Ultimate Back, Quality Brands, and Ultimate Back Store as well as Durable Medical Equipment stores across the US and Canada. The mission of McCarty's is to help those with back pain and to help prevent their backs from getting worse.
"I have just returned from traveling for two weeks of driving. One day was a 12-hour drive. Truthfully, I suffered no sciatica or aching pain due to the SACRO-EASE seat," claimed client Trudy N. "This is the first time since my fall on the icy sidewalk back in '96 that I can comfortably ride in the car."
About McCarty's
McCarty's has been manufacturing posture correction products for the industrial safety market for over 70 years. Its products are made to support overall spinal health. For more information, please call 1-800-635-3557, or visit http://www.mccartys.com. McCarty's is located at 3279 W. Industrial Loop, Coeur d'Alene, ID 83815.
About the NALA™
The NALA offers small and medium-sized businesses effective ways to reach customers through new media. As a single-agency source, the NALA helps businesses flourish in their local community. The NALA's mission is to promote a business' relevant and newsworthy events and achievements, both online and through traditional media. The information and content in this article are not in conjunction with the views of the NALA. For media inquiries, please call 805.650.6121, ext. 361.