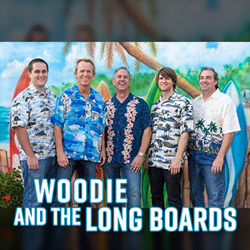 DUNCAN, Okla. (PRWEB) April 03, 2018
The Chisholm Trail Arts Council(CTAC), through the generous support of First Bank & Trust and Duncan Area Development Foundation (DAEDF), is pleased to present Woodie and the Longboards as the last program of their 2017-2018 CTAC Live Concert Series. The night is guaranteed to be full of fun and dancing to this Beach Boys tribute band that and begins at 7:30pm in the Simmons Center's Chisholm Trail Hall located at 800 Chisholm Trail Parkway in Duncan, OK.
John "Woodie" Keating started Woodie and the Longboards in 2002. Having just left a position as front man for a Disney house band, John assembled musicians he had enjoyed working with over the years to focus on performing music from the 60's and 70's. This gave rise to "That 70's Band" and "That 60's Band". An agent from the Pacific Northwest asked for a more "beachy" sounding name that he could use to book the band as a Beach Boys Tribute for an Oregon casino. John quickly decided on Woodie and the Longboards and has never looked back.
Coming all the way from California, meet the band members: John (Woodie) Keating is the founding member and manager of the group. In addition to leading the Longboards, John is also a fifth grade teacher in California. He plays guitar, keyboards, sings and is the front man for the group. He has been a professional musician his entire adult life and has played all across the United States. The Longboards are: Jude Wright- the bass player, a fantastic vocalist and also a master of the guitar-viol (a bowed guitar). Andy Young- a jack-of-all trades playing keyboards and guitar. A great bass vocalist, Andy often sings the Mike Love parts on Beach Boys songs. Grant Wilson- rhythm guitarist, formerly fronted his own band Surfin' USA and has been performing these classic hits for many years. His love of the Beach Boys music makes him a welcome addition to the Longboards. Grant is a former actor having appeared on many television shows and in many movies over the years. Tom McIntyre- a good drummer and also a fantastic singer.
Table seating is limited. For more ticket pricing, or any questions regarding the concert, please call the CTAC office at 580-252-4160. The Chisholm Trail Arts Council is a nonprofit organization with a mission of "Promoting and Inspiring the Arts in Southwest Oklahoma". CTAC receives support through Oklahoma Arts Council, McCasland Foundation as well support from businesses and memberships.