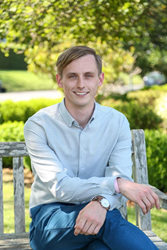 SOUTHAMPTON, N.Y. (PRWEB) March 19, 2018
Haute Residence welcomes Douglas Sabo to its invitation-only network of top real estate agents. As a Haute Residence partner, Sabo exclusively represents the luxury real estate market in Southampton, New York.
A Long Island-native, Sabo has always sought to share the beauty and serenity of the East End. This passion found a natural manifestation when he joined the Nest Seekers International real estate team in 2016. A year later, Sabo received the recognition 2017 Privet Hedges Rookie of the Year in the Hamptons real estate by Avenues Magazine.
A rising start in the local market, Sabo's success rests on his commitment to always advocate for his clients. He relies on the latest market data to educate sellers and buyers and assist them in making an informed decision that best serves their needs.
Before settling in the Hamptons, Sabo lived in Italy, Austria and Brazil. Today, this multicultural experience helps him represent clients from around the world.
Outside of real estate, Sabo follows another talent – music. With a Master degree from Longy School of Music and a Bachelor degree from Aaron Copland School of Music in classical music, he regularly performs in New York and on Long Island.
About Haute Residence:
Designed as a partnership-driven luxury real estate portal, Haute Residence connects its affluent readers with top real estate professionals, while offering the latest in real estate news, showcasing the world's most extraordinary residences on the market and sharing expert advice from its knowledgeable and experienced real estate partners.
The invitation-only luxury real estate network, which partners with just one agent in every market, unites a distinguished collective of leading real estate agents and brokers and highlights the most extravagant properties in leading markets around the globe for affluent buyers, sellers, and real estate enthusiasts.
HauteResidence.com has grown to be the number one news source for million-dollar listings, high-end residential developments, celebrity real estate, and more.
Access all of this information and more by visiting: http://www.hauteresidence.com