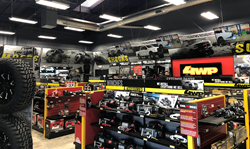 As a key part of our Midwest expansion, we're proud to say that 4 Wheel Parts is now here in Naperville.
COMPTON, Calif. (PRWEB) March 16, 2018
4 Wheel Parts, the global leader in off-road performance product sales and installation, is introducing the nation's largest selection of aftermarket parts and accessories for trucks and Jeeps to Naperville, Illinois with its grand opening celebration this Saturday, March 17. The family-friendly event, located at 1300 W. Ogden Avenue will feature exclusive grand opening discounts, installation specials in addition to numerous promotions and giveaways to coincide with the introduction of 4 Wheel Parts' newest state-of the-art showroom and service center.
The launch of this, the company's eighty-eighth North American store, represents the second 4 Wheel Parts location to be opened in the greater Chicago region in as many months.
"As a key part of our Midwest expansion, we're proud to say that 4 Wheel Parts is now here in Naperville," said Austin Curran. "Our sister store in South Elgin has been incredibly well received and with the popularity we have seen there, we immediately recognized the need for a second location in the area to serve our customers. With so many products on display and in stock, from tires and wheels to shocks, lift kits and interior accessories we can't wait to officially open our doors and welcome customers to our brand new store here in Naperville."
The grand opening event provides attendees their first opportunity to experience the contemporary, interactive showroom featuring an array of products while engaging with the onsite staff of off-road performance experts. Multiple industry-leading manufacturers such as Pro Comp, Rubicon Express, Poison Spyder, G2 Axle and Gear, BFGoodrich Tires and MHT Wheels will be in attendance displaying and demonstrating their latest products. The event will also feature former 97.9 The Loop DJ, "Love Cheese" as the event emcee while he provides the soundtrack for the day. With a bounce house, hot wing eating and frozen T-shirt contests, tug-o'-war and pull up contest courtesy of the Marines, the event provides a variety of entertainment for the entire family. Complementary lunch will be served by the gourmet Grilled Cheese Food Truck, "Food for your Soul." Off-road enthusiasts from multiple organizations throughout the region are anticipated to join in the celebration while 4 Wheel Parts Gift Cards, prizes from Pro Comp, Smittybilt, Traxxas, and Hi-Lift will be up for grabs along with a $1000 4 Wheel Parts shopping spree and much more.
ASE-certified technicians will be on-site providing installation discounts on select products purchased in addition to exclusive one-day specials.
"Our grand opening event is so much more than a store opening, it really is our way of welcoming the community into their new home to find everything they have been looking for to outfit their trucks, Jeeps and SUVs," added Curran. "We have received so much great feedback since we announced that we were coming to Naperville, we're expecting a huge crowd to share in this exciting day."
What: 4 Wheel Parts Grand Opening Celebration
When: Saturday, March 17 - 9 a.m. – 5 p.m.
Location: 1300 W. Ogden Avenue
Naperville, IL 60563
Complimentary Admission
About 4 Wheel Parts
4 Wheel Parts is the global leader in truck, Jeep, SUV and off-road performance products. With 88 locations across the U.S. and Canada and growing, 4 Wheel Parts Service Centers install all the products they sell. Maintaining the nation's largest inventory of off-road tires, wheels, suspension products and accessories, 4 Wheel Parts serves customers across the country and around the globe. Life is Better Off-Road™. Visit them at 4wheelparts.com or call toll-free 877-474-4821