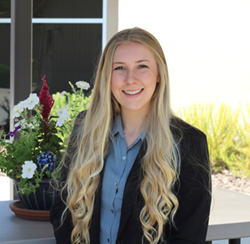 As I have found resources and motivators here at Sierra College, it's my goal to provide resources and help to students
ROCKLIN, Calif. (PRWEB) March 22, 2018
Phi Theta Kappa International Honor Society (PTK) has awarded Sierra College sophomore and Beta Mu Zeta Chapter President, Kylene Landenberger, not one, but two of the nation's most prestigious academic honors for students attending two-year colleges.
Kylene has been selected to represent Phi Theta Kappa on the All-USA Academic Team as the highest scoring student from thousands of honor student applicants. This prestigious award and scholarship of $5,000 only goes to twenty students nationwide (just two students in all of California) for intellectual achievement, leadership, and involvement in community and campus activities.
In addition, Kylene has also been named a 2018 New Century Transfer Pathway Scholar and will receive another $2,250 scholarship. This award is for those who excel in pursuit of a community college education with the intent of transferring to a university. More than 2,000 students were nominated from across the country; but only 50 of them, the highest scoring from each state, were chosen, based on academics, leadership, overcoming hardship, and for extending their talents beyond the classroom.
Kylene was an honor student and star volleyball player at Roseville High School. It was through her sport that she learned strong leadership skills and a positive outlook in difficult situations. "Because of volleyball," she said, "these traits became a part of my everyday life. However, in 2015 the strength of my character was truly tested after a car accident, my whole world shifted."
After seven years as an athlete, she could not walk without support and had to retire from collegiate volleyball. Suffering from neurological damage, she lost the ability to think abstractly and had to fight to find a new normal in life. Once an accomplished student of calculus, she now struggled with arithmetic. She was unable to speak coherently and was certain that she would be unable to continue her education.
Kylene reflects that it was from this experience that she learned to avoid the fruitless 'why is this happening to me?' conversation and instead focused on how she could grow to be a better person and make the world a better place. Through chiropractic care and therapy, she progressed to walking normally. Eventually, she recovered her speech and achieved an academic level she lacked before the accident. "Just two years ago, I was close to taking a break from school. I know what it feels like to have your dreams seemingly ripped away from you, and as I have found resources and motivators here at Sierra College, it's my goal to provide resources and help to students. Especially those battling something like I have been these last two years."
Today, Kylene works at the Sierra College Math Center as a tutor and as a teacher's aide for multivariable calculus. She is also the founder and president of the STEM Club – for science technology, engineering and math – in which members provide their peers with resources and networking opportunities to inspire and service all students pursuing a STEM-related career. Kylene is an honor student with a major grade point average of 3.97, three tenths of a point short of perfect. Her major is applied mathematics, and she intends to study biomechanical engineering when she reaches graduate school.
In late April Kylene will be headed for Dallas to accept her awards at Phi Theta Kappa's President's Breakfast held at the American Association of Community Colleges annual convention.
About Sierra College
Sierra College District is rising to the needs of our community. Sierra College serves 3200 square miles of Northern CA with campuses in Roseville, Rocklin, Grass Valley, and Truckee. With approximately 125 degree and certificate programs, Sierra College is ranked first in Northern California (Sacramento north) for transfers to four year Universities, offers career/technical training, and classes for upgrading job skills. Sierra graduates can be found in businesses and industries throughout the region. More information at http://www.sierracollege.edu