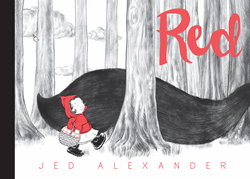 "Riffs on 'Little Red Riding Hood' are many, but there's always room for more, especially when they're as good as this."—Publishers Weekly, Starred Review
PETALUMA, Calif. (PRWEB) April 04, 2018
RED
Written & Illustrated by Jed Alexander
"Riffs on 'Little Red Riding Hood' are many, but there's always room for more, especially when they're as good as this."—Publishers Weekly, Starred Review
Who's afraid of the Big Bad Wolf?
The first title in a series inspired by classic folktales, Red is a clever, wordless take on a classic tale, Little Red Riding Hood, but with a twist.
Red is on her way through the woods to visit Grandmother, when she meets the Big Bad Wolf. What are that Wolf and all of those woodland creatures up to? This version ends a bit differently. A delightful surprise awaits Red and readers in this charming, wordless picture book featuring newcomer Jed Alexander's exquisite two-color illustrations.
RED
Written & illustrated by: Jed Alexander
Publisher: Cameron Kids (a division of Cameron + Company)
ISBN: 978-1944903114
Format: Hardcover, 32 pages, 10 x 7
Publication Date: April 24, 2018
Distributor: ABRAMS
Retail: $15.95
Age Range: 4 to 8
Jed Alexander lives in Davis, California. This is his first published book for children.
Cameron Kids, the children's book imprint of Cameron + Company, publishes kids' books for all ages. We have a small and growing list of thoughtfully curated, acquired, and produced titles. With an emphasis on beauty, simplicity, and story, we are carrying on the Cameron tradition of books that need to be book—for kids!
CAMERON + COMPANY 149 Kentucky Street, Suite 7 • Petaluma, California 94952
707.769.1617 • Fax 415.223.8520 • http://www.cameronbooks.com