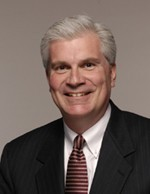 We have a great team here at Instor. No matter our individual role, we are committed to work closely to help one another and ensure our customer's success.
FREMONT, Calif. (PRWEB) March 20, 2018
Bringing his extensive leadership experience in the technology and data center industry, Dave Plumer has joined Instor Solutions, Inc. in a key role as Executive Advisor.
As Executive Advisor, Plumer will work with Instor's President, Jack Vonich, along with the Senior Leadership team to help create robust planning, reporting and communication processes aimed at helping Instor achieve deeper operational success and accelerate organizational development. Plumer will help shorten the learning curve for Instor's sales and service process, further build Instor's global brand and accelerate Instor's international expansion strategy.
Plumer's prior roles in the industry include President of American Power Conversion (APC) | Asia Pacific, where he led one of the largest UPS and Data Center Infrastructure companies in the region, whose team's rapid growth and success resulted in their parent company's eventual $6 Billion acquisition by Schneider Electric. He also served 25 years with IBM, including key roles as Managing Principal for IBM Global Services and executive roles in IBM's Asia-Pacific region, managing a $ 9B business unit, startup of an IBM Display Business Unit and rapid growth of its Asia Pacific Services Corporation. He has worked extensively in Silicon Valley, as Chief Commercial Officer and as VP Global Sales for innovative, high growth technology firms including Bridgelux, Sensys Networks and Altierre; and served as a Managing Director for the Alliance of CEOs, the premier organization for CEOs in Northern California.
Most recently, Plumer was CEO of Open Blue Sea Farms, Inc., the worlds' largest open ocean farm, based in Panama. He led the team's rapid growth and development of a global brand with an exciting vision to feed current and future generations in harmony with the ocean.
Plumer graduated from Union College in New York and obtained his MBA in General Management from the Amos Tuck School of Business at Dartmouth College, New Hampshire.
"Although his title is Executive Advisor, I prefer to think of Dave as Instor's Trusted Advisor," Vonich said. "Over the past 20-plus years, Dave has held many C-Level and Executive roles, which makes him the right guy at the right time to help supercharge Instor's ongoing efforts."
Plumer said, "Instor is well poised for continued success and rapid growth by excelling in its role as a trusted advisor and valued partner to data center operators."
"I know the pressures facing this industry and the challenges of running a data center. When you're looking for help, you need an advisor who understands where you're coming from and who truly acts on your behalf, someone you instinctively trust," Plumer said. "It is all about trust. That's why Instor has become the #1 choice for our data center customers. We deeply listen to them and we take the time help them understand their options in a thoughtful way. We offer comprehensive, vendor neutral solutions & services that deliver the best results for our customers, at highest quality, often much faster and at a lower cost than the alternatives."
"We have a great team here at Instor," said Plumer. "No matter our individual role, we are committed to work closely to help one another and ensure our customer's success. Our customers really feel we care about them, and they trust us. They say, 'Hey, these guys are really looking out for me and my success. ' Each time our customers succeed, it creates more opportunities for Instor and for each of us to grow. I am very excited to serve in my new role as part of this special team. Because of them, I am very confident Instor has a very bright future."
About Instor Solutions, Inc.
Instor is the global leader in rapid deployment of Data Center Infrastructure. Our core service offering, Data Center Fit-Up, packages the design, procurement and build-out of the white space inside a data center. Our team's technical and industry expertise enables the rapid build out of our customer's data centers, so they can focus on their core business. Headquartered in the San Francisco Bay Area, and with regional offices throughout for complete U.S. coverage. Instor operates throughout the U.S., the United Kingdom and in the European Union.