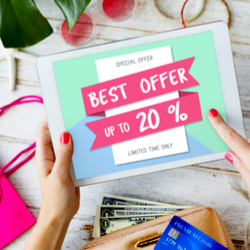 NEW YORK (PRWEB) March 19, 2018
With 96% of Americans stating that they purchased an item online at least once, it is safe to say that online shopping is the preferred shopping method in the 21st century. On many occasions, such as holidays or clearance sales, the online shopper can find great deals that will help him or her save tens if not hundreds of dollars on each purchase.
In order to allow online shoppers find the best prices for the best products, information.com has launched a daily Deals section that provides the latest online sales for a variety of products.
Finding Online Deals with Ease
Online shopping has many advantages, such as the comfort of shopping from home, quick shipping and a great variety of products to name a few, but it also has some disadvantages. Shopping products from unknown origins can lead to fraud, and also lead to people receiving products that are a far cry from what was presented online.
With information.com deals section, online shoppers can be sure that they are buying the best products out there from well-known vendors. The deals sections has daily updates on a variety of products ranging from baby products to electronics.
The section also includes comprehensive reviews on the products, including their pros and cons, durability and their overall score. For those that wish to compare between products in the deals section to similar ones, information.com also has a detailed reviews section that compares products.
In order to make the purchase even easier, information.com also provides direct links to the deals in each section. Other sections on the website make for a complete online experience with a useful finance section, a buzzing section, a people search service and a products section that users can enjoy every day.
Online deals can help shoppers save a great deal of time and money, and with information.com special deals section, users can be certain that they are purchasing the best products from the most reliable and well-known vendors.