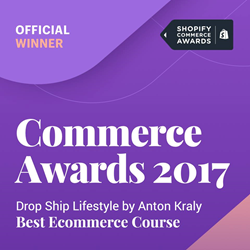 AUSTIN, Texas (PRWEB) March 20, 2018
Shopify has just announced the winners of their 2017 Shopify Commerce Awards recognizing Drop Ship Lifestyle as the Best eCommerce Course in the industry.
Shopify created the Shopify Commerce Awards as a celebration of their global community of Shopify Partners, developers, and affiliates. In August, Shopify asked their community to submit nominations for the Shopify Commerce Awards. Eight expert judges were chosen to sift through the submissions and vote on the best in each of the 16 categories.
Added this year was the Best eCommerce Course category in which Drop Ship Lifestyle was voted as the winner. In the newest Commerce Award category, Shopify was looking for the best in user-friendly, educational, and inspirational eCommerce courses.
"The content being divided by skill level and student goals was a big win," said Ezra Firestone, judge panel member and CEO of Smart Marketer. "Loved that they [Drop Ship Lifestyle] had supporting blog content and a good amount of authority."
For more information about this year's awards, visit here.
About Drop Ship Lifestyle
Founded by Anton Kraly in 2013, Drop Ship Lifestyle is an online eCommerce coaching program that has helped more than 8,000 students in 25 countries. Drop Ship Lifestyle was created to give students the knowledge and tools necessary to create freedom through entrepreneurship by leveraging the power of drop shipping. Since the beginning, Drop Ship Lifestyle has found great success while building an international community of digital nomads and entrepreneurs through adhering to core values of passion and authenticity. More information available at: https://www.dropshiplifestyle.com