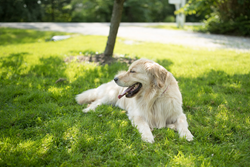 CLEVELAND (PRWEB) March 20, 2018
With spring right around the corner, allergy season isn't too far behind. While we may be enjoying the blooming flowers and the nice weather, our pets might be uncomfortable. Embrace Pet Insurance recommends paying close attention to any changes in your pet's behavior or physical appearance this spring. If you do notice any unusual symptoms, take them to their primary veterinarian right away to discuss a recommended course of treatment.
What causes seasonal allergies in pets?
Seasonal allergies in dogs and cats occur when proteins in the environment gather in quantities large enough to elicit an allergic response in a pet's skin. These proteins (called "allergens") include pollen produced by grasses, trees, weeds, mold spores, house dust mites, insects, animal dander, human skin, natural fibers, and other sources depending on the time of year and where the pet lives. Instead of affecting the respiratory system as most allergies do in humans, extreme itchiness can result, known as atopy. Certain dog breeds are also more susceptible than others to inherit allergies including Shar-Peis, Golden Retrievers, Boxers, and Labrador Retrievers.
Common symptoms of seasonal allergies in pets include:

Itching, redness, pustules, wheals (hives), and crusts on the skin
Secondary skin infections that can be moist and odorous
Irritability in the Face, legs, feet, belly, ears, and rear
Infected ears, especially in dogs
Excessive licking in a symmetrical pattern (on the back, belly, and behind the legs is most common) or tiny crusts around the neck or tail base in cats
Hair loss, also known as alopecia, or "hot spots" due to prolonged scratching
According to Dr. Patty Khuly, "Once these symptoms appear, the goal is to determine whether any other skin diseases are amiss. Hormone-related skin issues and other allergies to foods or insects can look like seasonal allergies. Differentiating one from the other is important, and typically accomplished through feeding trials, courses of highly-effective flea medications, and blood testing."
Dr. Khuly shared that if a pet is suffering from seasonal allergies, there is a three-step process for treatment:
1. Treat the secondary infections
2. Treat the itching
3. Prevent the allergic reaction
Getting rid of secondary infections with antibiotics, antifungal medications, and all manners of topical treatment is step one. Oral and injectable medications can then help keep itching at bay. Once this has been done, blood or skin tests can be conducted to determine what the pet is reacting to.
Unfortunately, diagnosing seasonal allergies takes time, which can quickly result in a heap of veterinary bills. Luckily, Embrace Pet Insurance covers allergy treatments, including immunotherapy, which some pet parents choose as the best course of treatment, including Theo the Labrador Retriever's pet parents.
About Embrace Pet Insurance
Embrace Pet Insurance is an Ohio-based pet health insurance provider, offering comprehensive, personalized insurance products for dogs and cats across the United States. Embrace is consistently ranked as one of the highest-rated U.S. pet insurance companies, and is a proud member of the North American Pet Health Insurance Association. Embrace is the only company to offer a diminishing deductible feature, the Healthy Pet Deductible, and continues to innovate and improve the pet insurance experience for pet parents across the country. For more information about Embrace Pet Insurance, visit http://www.embracepetinsurance.com or call (800) 511-9172.