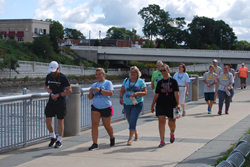 MISHAWAKA, Ind. (PRWEB) July 12, 2018
Center for Hospice Care (CHC) and the Hospice Foundation are thrilled to announce that the 33rd Annual Walk for Hospice is Sunday, September 23. As in year's past, the walk will start and finish at Center for Hospice Care's Mishawaka Campus, next to beautiful Central Park, along the scenic St. Joseph River. For the first time, this event will take place on the same day as CHC's Annual Bike Michiana for Hospice, which will also begin and end at Center for Hospice Care.
What's New?

T-Shirts – A Walk T-Shirt is now included in the registration fee. Simply select the appropriate size during online registration.
Fundraising – To support CHC's mission of providing compassionate care to all eligible, regardless of their ability to pay, this year's participants will be able to raise money for CHC in honor or in memory of a loved one.
Post-Event Party – This year's post-event party will have more food, music and fun, as CHC is holding a joint party for returning walkers and cyclists. Yesterday's will provide the delicious food.
Advance registration will be required this year.
What's Not Changing?
Location – The walk will begin and end at CHC's Mishawaka Campus, next to Central Park.
Fun – Central Park is a great place to spend time before and after the ride.
Fellowship – Have a great time for a great cause, enjoying family, friends and neighbors.
For more information about this event, please visit foundationforhospice.org/walk.
About Center for Hospice Care and the Hospice Foundation
Established in 1978, Center for Hospice Care is an independent, community-based, not-for-profit organization, improving the quality of living through hospice, home health, grief counseling, and community education. With offices in South Bend, Plymouth, Elkhart, La Porte and Mishawaka, CHC serves Elkhart, Fulton, Kosciusko, LaGrange, LaPorte, Marshall, St. Joseph and Starke counties in Northern Indiana.
The Hospice Foundation is committed to supporting the work of CHC through community outreach and education, fundraising activities and other special events. The Foundation helps CHC keep its promise that no one eligible for hospice services will be turned away, regardless of their ability to pay.